Looking for VBT Walking Vacations? All VBT Walking Vacations have moved to our sister company, Country Walkers. The same tours you know and love, plus exciting new itineraries, are available to book through their website.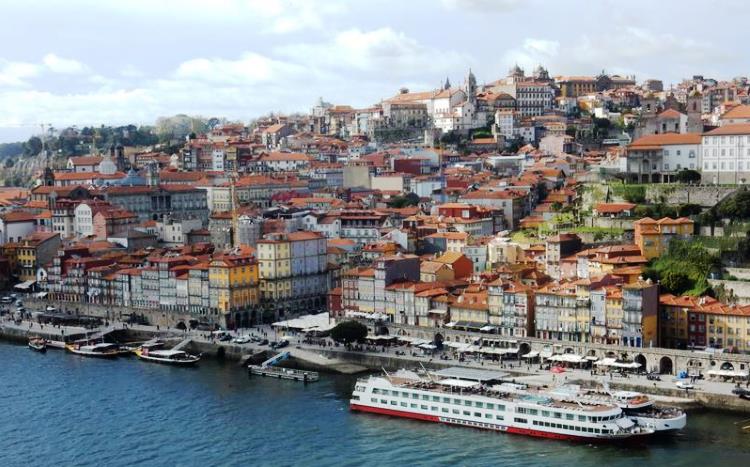 With gorgeous landscapes, unbounded hospitality, and a legacy of exploration and adventure, Portugal is a perfect country to experience on a biking or walking vacation. Whether you're traveling through cork forests or settling down to a hearty village dinner, it helps to learn some Portuguese words before you leave for your trip.
Here's a helpful glossary of terms to know in Portugal:
Fado
Fado is a style of music that originated in Portugal in the 1820s. It is characterized by contemplative, nostalgic lyrics, and melodies that convey a sense of wistful sadness. Fado is well-described by another Portuguese word, saudade, which, though it doesn't have a direct equivalent in English, can be loosely translated as "longing."
Fado music is often performed in cafés, taverns, and other gathering spaces where people can hide away from their troubles for a little while. If you pedal past a tavern with melancholic twangs of guitar floating through the windows, stop in for a little while, and let the waves of reflection wash over you.
Port
A perfect tipple to savor while listening to fado music, port is a sweet wine produced in the Douro Valley in northern Portugal. As you descend the Douro Valley, you'll see the beaming rays of sunshine, lush greenery, and extraordinarily fertile land that helps give port its soul-satisfying flavor. Most responsible for the wine's perfect taste, however, may be the Douro River that courses through the valley, which nourishes the soil of the surrounding vineyards.
If you stroll through the city of Porto, after which port wine is named, be sure check out the wine cellars beside the river. You can stop into the different wineries for tastings and tours. Also nearby is a short skyline ride across the Douro River, which gives you a beautiful aerial view of the city.
Está tudo fixe
As you cycle through Portugal, with the wind blowing through your hair and every vista you pass postcard-perfect, you may wonder if it really can get any better than this. If you're feeling that way, you can share your sentiment with others with the phrase, Está tudo fixe ("Everything is good").
This phrase is a common and appreciated way to say that you're happy with the local service as well as everyone and everything around you.
Saude
When you go to clink drink glasses with others, say saude, which means "health." It's the equivalent of saying "Cheers!"
Tudo bem?
Tudo bem? is the standard greeting in Portugal, meaning "Everything well?" You can respond with Tudo, e consigo? which means "Well, and you?"
Bacalhau
Bacalhau is salted cod, and Portugal is the world's largest consumer of this tasty fish, according to Eater. The delicacy has long been a staple of the country and is incorporated into many dishes.
Historical records show that cod was a popular fish in Portugal dating back to 1353, with commercialization of cod fishing beginning in 1501, the Portugal Resident detailed. A few centuries later, in the 1830s, Portuguese fisherman sent out for long assignments at sea discovered that salting cod was a great way to preserve the important protein for long months on deck. Since then, a variety of dishes have been created that incorporate this essential of the national cuisine, including potato-and-onion stews and crispy fritters. Wander through any grocery store or local fish market to see long tables piled high with dried, salted cod.
To learn more about our biking and walking itineraries in Portugal, click here. To request a free VBT catalog and learn more about other exciting destinations throughout the world, click here. If you would like to speak with one of our Tour Consultants, please call 800-245-3868. They are available Monday-Friday from 8:30am to 6:30pm EST and Saturday from 10:00am – 3:00pm.