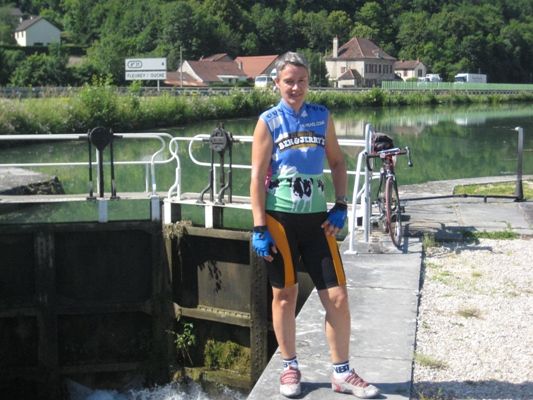 If anyone knows crepes, it's VBT Burgundy Trip Leader Sophie. After all, one cannot grow up in western France, between Burgundy and the Loire Valley, without loving this distinctly French culinary specialty. In fact, she considers crepes her "comfort food." As a child in the village of Chateaubriant, she helped prepare various savory and sweet fillings for her mother's delicate wheat-flour pastries.
Food was a constant part of her life because her parents owned the village butcher shop. From an early age, she appreciated the role that recipes play in linking generations. Though she didn't have the opportunity to travel in her younger years, she burst into world travel after graduating from University, where she studied several languages. In 25 years time, she's collected stamps from six continents on her passport. But her first love remains the lovely back roads of her native France, which she enjoys sharing with VBT travelers. And you can be sure that she enjoys staying close to home for another reason: the mouthwatering crepes that remind her of her simple childhood in a small French village. She shares it with us here.
Preparation
1. Mix the flour, water, and salt well, and let sit before cooking. You may even chill the batter overnight.
2. Heat skillet over medium-low heat. Melt a little butter in pan and pour 3 tablespoons of batter onto the skillet and swirl it so it spreads thin. Let it cook about 1 minute to a light golden brown before gently turning with a large spatula. Cook another minute and remove from skillet onto a warm plate. Prepare all crepes and keep them warm.
3. Add savory or sweet filling (see below) down center of each crepe, and fold each side in. Use your imagination; mix any of the ingredients below, and experiment with your own ideas!
Some typical fillings from the VBT Bristol Test Kitchen:

Savory
-Sauteed spinach and mushrooms with a dash of thyme
-Cooked shredded chicken and melted Vermont cheddar cheese
-Grilled shrimp and asparagus
-Thinly sliced ham and shaved cheese

Sweet
-Sauteed apples and caramel sauce, drizzled with cognac
-Vanilla ice cream, drizzled with chocolate sauce or calvados French apple brandy
-Mixed berries (raspberries, blackberries, sliced strawberries) with whipped cream
-Nutella ( a hazelnut spread) and strawberries
Serves 10