The Dalmatian Islands—located in the heart of the Adriatic Sea— are home to some of the most renowned beaches of Croatia. Travelers on VBT's Croatia: The Dalmatian Islands​ biking vacation will visit both the islands of Brac and Hvar, and will get to bike along gorgeous white pebble beaches and cool off in the pristine, clear waters of the Adriatic.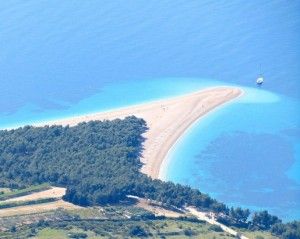 On Brac—the largest of the Dalmatian islands—you'll spend time in the charming village of Postira, which dates back to the 14th century. Immerse yourself in the history of Postira with visits to centuries-old olive fields and the remains of a 1,400-year-old basilica on Lovrecina beach. You'll also take in breathtaking views as you roll downhill to Zlatni Rat—which translates to "Golden Horn"—highly regarded as the best beach of Croatia. This spit of land reaches out almost a quarter mile into the water with its gently sloping beach at the tip. Swim in the Adriatic's crystal-clear water while you admire views of Hvar across the channel.
On the west coast of Brac, we'll cycle to the port of Milna, the most beautiful marina on the island. One of the first established villages in Brac, Milna is also known as the "Bay of a Thousand Ships" due to its history of offering safe harbor to boats of all sizes for hundreds of years. In the summer months, Milna is quite the popular destination for yacht owners while on holiday.
Ferry over to the island of Hvar—called "one of the most beautiful islands in the world" by Condé Nast Traveler magazine—for the remainder of your vacation. Hvar town, the island's hub, is a medieval Croatian town with a strong Venetian influence dating to the 16th century. Other Hvar attractions include the Arsenal, built in 1612 as the first municipal theater—Europe's oldest and perhaps smallest—that was designed to bring the aristocratic and bourgeois classes together. While cruising around Hvar Town be sure to take in the expanse of Saint Stephen's Square, the largest town square of the Adriatic after Saint Mark's in Venice. Enjoy worry-free cycling as the town's center is free from car traffic.
These gorgeous beaches and seaside towns are just a few of the highlights of VBT's biking tour in the Dalmatian Islands. For more information about the bike routes, accommodations and cultural highlights you'll experience while on tour, please visit our website. To request a full catalog with all of our vacations please click here. If you would like to reserve a vacation or speak with one of our Tour Consultants, please call 800-245-3868, available Monday-Friday from 8:30am to 6:30pm EST and Saturdays from 10:00am to 3:00pm