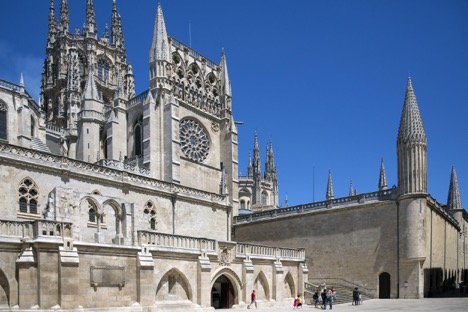 Every part of Spain is a worthwhile vacation destination, from the architecture in Barcelona to Ibiza and its endless fiestas. But there's no part quite as diverse and intriguing as the nation's northern locales. VBT focuses on three in particular on our Spain: Basque, Navarre & Rioja Wine Regions bicycling adventure. All three of these places blend distinct cultures together to form one colorful corner of this majestic country. Here's a primer on what to expect from your vacation in Northern Spain:
Hundreds of Wineries (Literally)
According to Touropia, La Rioja has more than 500 wineries, so it's no secret that wine has had a huge influence on culture in northern Spain. In Rioja, some vineyards are still tended by vintners and laborers on horseback according to traditions that are centuries old, but these days they're just as likely to be navigated by all-terrain vehicles using high-end agricultural tech. Thus you see the coexistence of old and new in a unique fashion.
In Basque Country (some of which crosses over with La Rioja), there are traditional reds, whites and rosés, but you will also find a dry, sometimes sparkling white wine called txakoli (or chacoli). Chile produces it in extremely limited quantities, but it's the Basque winemakers who have truly perfected this light, fruity beverage.
Basque and Navarre: Unlike Anywhere Else
Basque Country houses a unique culture quite distinct from other regions in Spain. The Basques are most closely related to the long-gone Vascones and Aquitanians. They repelled invasion by several armies, including Visigoths, Normans and Moors, according to Encyclopaedia Britannica. Even after making peace with Spanish occupation, the Basques effectively governed themselves and still do: Basque Country is officially an autonomous region of Spain. Basque language, cuisine and other cultural aspects have absorbed some foreign influence, but not much.
Navarre is also an autonomous province with a distinct history, but it can be described as a blend of French, Spanish and Basque culture rather than a continuation of ancient Vascones. Nevertheless, many traditions here are found nowhere else: the Javierada processions and the Pamplona bull run, as well as various festivals and carnivals.
Modern Pleasures in San Sebastian and Bilbao
San Sebastian and Bilbao are the bookends on our Spain: Basque, Navarre & Rioja Wine Regions bicycling vacation, and they provide excellent examples of northern Spain's modern culture. In San Sebastian, you'll find what Travel Away calls the best restaurants in Spain, as well as fashion boutiques and the gorgeous La Concha beach. Bilbao boasts the world-famous Guggenheim Museum, which is a spectacle in itself and a repository for the very best in contemporary art. A night in either city will positively hum with activity.
To learn more about our Spain bicycling vacations, click here. If you would like to speak with one of our Tour Consultants, please call 800.245.3868. They are available Monday-Friday from 8:30 a.m. to 6:30 p.m. ET and Saturday from 10:00 a.m. to 3:00 p.m ET.