As the leaves change and the chill of autumn permeates the air, there is nothing like a warm bowl of soup to keep you warm—especially after returning from a refreshing bike ride or scenic walk surrounded by vibrant fall foliage. As Farmer's Markets make their annual transition from the likes of ripe tomatoes and succulent peaches to hearty squash and freshly-picked apples, the dishes we cook at home tend to follow suit. With that in mind, we've shared a great recipe for Butternut Squash Soup—courtesy of the Moosewood cookbook.
Ingredients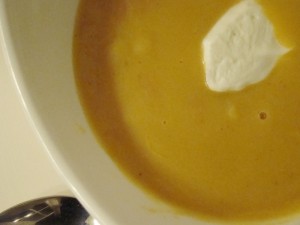 - 1⁄4 cup olive oil
- 3 lbs organic butternut squash
- 6 garlic cloves, unpeeled
- 2 large Spanish onions, peeled and quartered
- 1⁄4 cup water
- 3 cups apple juice (or 3 cups vegetable stock)
- 1⁄2 tsp of thyme (dried)
- 1⁄4 tsp of ground nutmeg
- Salt and pepper as needed
- 2 tsp butter
- 20 fresh sage leaves, sliced on the diagonal
For directions on preparing the soup please click here.