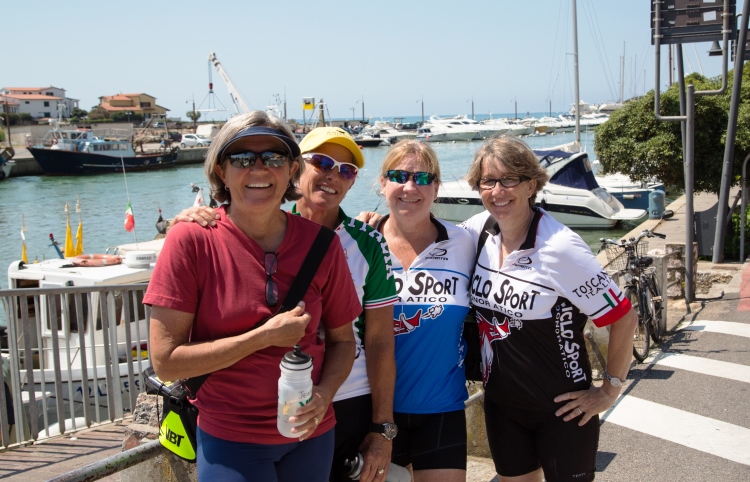 So much of the landscape in southern Tuscany seems to have just emerged from the earth itself. Tiny villages huddle within walls and rise atop hills as if divinely sculpted from the very stone upon which they perch. Family-run farms—many of them now transformed into agriturismi—offer up a fresh bounty of Tuscan cuisine to their guests with so many tasty ingredients grown right on site. Travelers will discover all this and more as they make their way from village to village by cycling along friendly wine roads—whose soil bear vintages so bold they're known colloquially as Super Tuscans—that also pass ancient olive groves that produce smooth elixirs beloved by the Medicis centuries ago. VBT's Tuscan Coast biking tour will immerse into the cultural heart of the Tuscan Coast both on and off your bike. Here are some of the best reasons why you should discover the Tuscan Coast by bike.
The Cycling Routes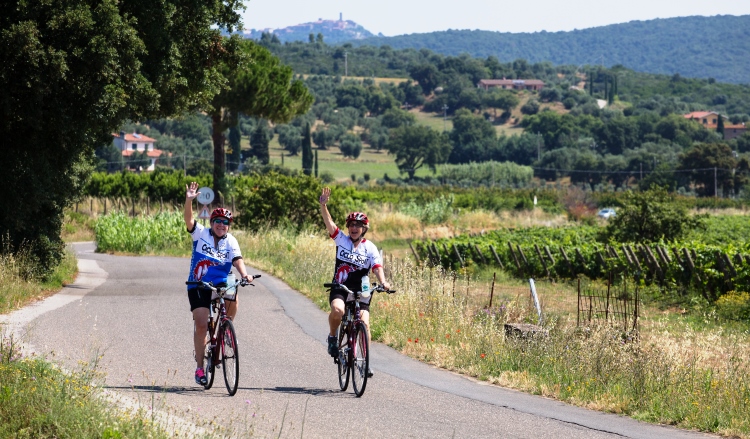 Cyclists will find exhilarating routes along pastoral roads throughout this 7-day tour. One day that sticks out is spent on one of the most picturesque rides in all of Europe, from Sassetta to Suvereto. During our cycle, we'll cruise by cork and pine trees, medieval estates, and fields of sunflowers before arriving in Suvereto—an ancient village that dates back to the year 1000. If wine is a big reason for you to visit Tuscany, you'll love the day spent cycling on the Strada del Vino, one of Italy's most beautiful wine roads. VBT's route traces graceful vineyards to the Bolgheri region, famous for prized Ornellaia and Sassicaia wines, and other "Super Tuscans." VBT Guests will have plenty of free time to stop for lunch and stroll along the cypress-lined Viale dei Cipressi, which some of you may remember from Nobel laureate Giosuè Carducci's poem, "Davanti San Guido."
Cooking with Chicca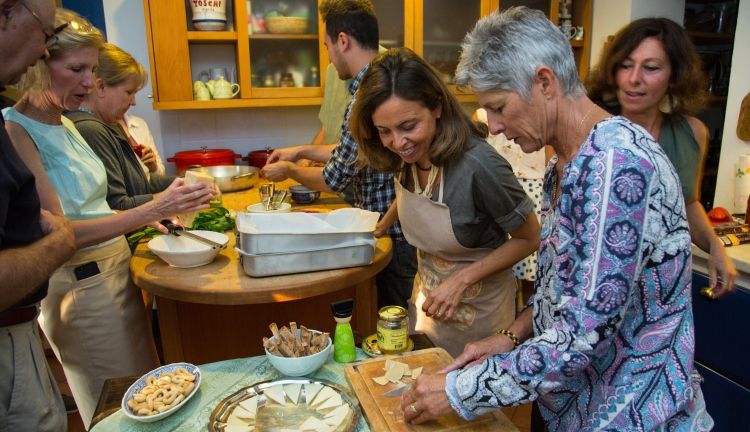 At VBT, we not only want you to dine on delicious local cuisine, we want to show you how it's made and tell you about the history of food within each culture. At our seaside spa resort in Marina di Castagneto, our travelers will get a unique and authentic Tuscan cooking experience when we join our dinner hostess, Chicca, at her Tuscan countryside house. The founder of Cooking in Tuscany, Chicca, loves to spread the culinary traditions of her native land throughout Italy and beyond. After a fun cooking class in which groups serve as Chicca's sous chefs, the whole group gathers for a home-hosted dinner under the pergola.
The Agriturismi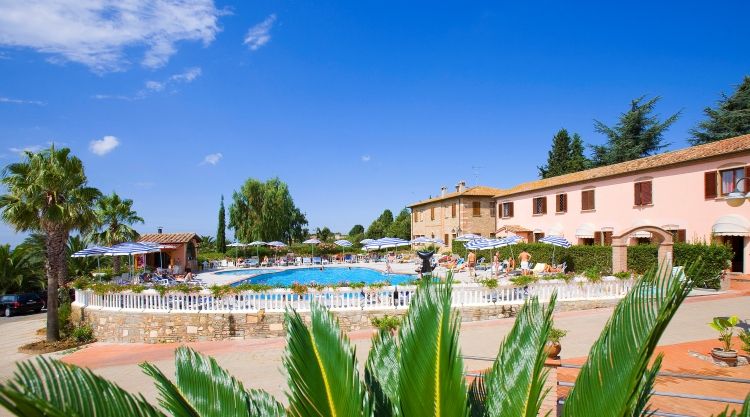 At VBT we place a certain emphasis on our guests immersing themselves into as much local culture as possible, and a big part of that are the accommodations that we carefully select. One of our favorites, the Agriturismo Montebelli—which has 91% thumbs up rate from trip Advisor—is a gorgeous country hotel located in the Maremma region, and is surrounded by olive trees, gardens and vineyards. VBT travelers will enjoy using their tennis courts and bocce courts, as well as relaxing in the outdoor pool or taking advantage of their horseback riding facilities for a leisurely ride. We'll also dine on fresh food, much of which is grown right on the property and cooked up by the chefs at the onsite restaurant.
The Pre-Trip Extension in Florence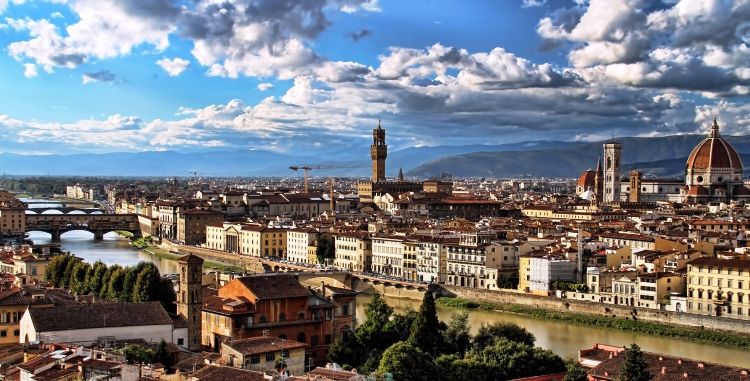 If you want to spend some extra days in Italy before the start of our Tuscan Coast tour, our optional pre-trip extension in Florence, the cradle of the Renaissance, is a great way to do so. Florence is a perfect city to discover on foot because many of its attractions are centrally located in the small historic city center that stretches from Piazza del Duomo south to the Arno River. By day you can see all the masterpieces of art that are on display throughout the city and at night we'd recommend heading up to Piazzale Michelangelo, and taking in its enchanting views overlooking the city.
Wine and Olive Oil Tastings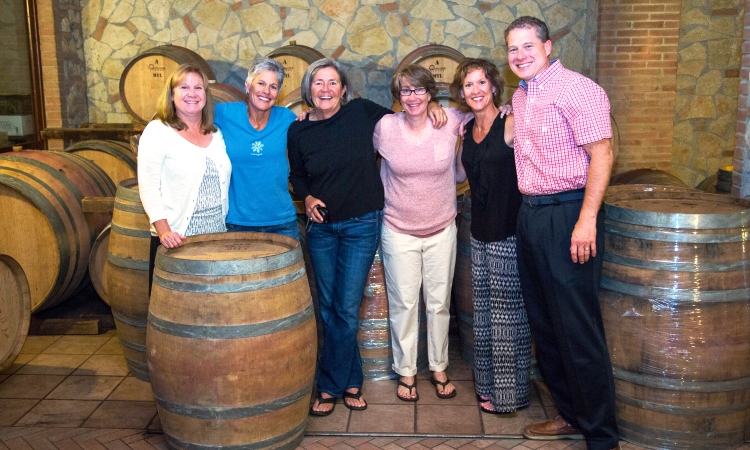 Not only will we pedal past beautiful wine roads like the Strada del Vino, but we'll also enjoy a tasting of some of the best vintages in our Agrihotel's wine cantina in Collemezzano. Also, on day 6 of the tour, we'll visit the family-owned and operated Fonte di Foiano olive oil mill in Livornio. Upon arrival we'll meet members of the Di Gaetano family and enjoy a private tour of the press and workshop. During our tasting, Michael Di Gaetano will explain the differences among regions and how varied the flavors can be.
To learn more about how you can visit this region on VBT's The Tuscan Coast biking tour here. To request a VBT catalog and learn more of our exciting biking and walking tours throughout the world, please click here. If you would like to reserve a vacation you can fill out a request a reservation form or speak with one of our Tour Consultants by calling 800-245-3868. They are available Monday-Friday from 8:30am to 6:30pm EST and Saturdays from 10:00am to 3:00pm EST.