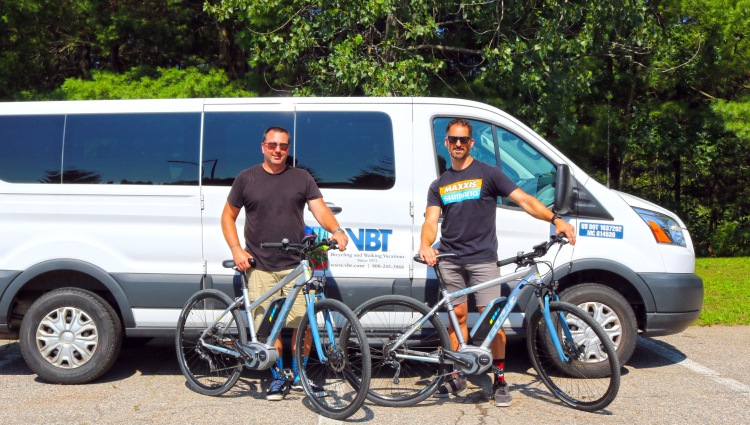 If you're heading off on a cycling trip soon, you'll want to make sure you have some essential gear on hand. Here are a few examples of bike touring tools and technology that can help you get the most out of your trip:
An E-bike 
The popularity of Electric-assisted—or E-bikes—is soaring in many countries around the world, and we offer complimentary E-bikes on over 30 biking tours. E-bikes are powered by a silent electric motor and can help you climb hills and pedal longer distances with less exertion. They're great for novice and experienced cyclists alike, as they enable you to focus on enjoying the scenery instead of breaking a sweat! They also allow couples of differing cycling experience levels to ride alongside each other.
Smartphone mount 
While taking a break from work emails is refreshing on your bicycling vacation, having your smartphone on hand while you cycle can be useful as you can take advantage of some helpful apps, such as RideWithGPS. RideWithGPS route notes are complimentary on all VBT biking vacations and help you easily map your rides, follow our route notes with voice-assist, and see your distance covered.
Pedals 
You can bring your own pedals on your trip to customize your experience. You have two main options: platform pedals or clipless ones. Many travel cyclists swear by clipless pedals, which have a rather deceiving name. Clipless pedals do have little metal clips that snap into the bottom of specially made clip-in shoes, providing extra safety and stability.
Saddles 
All bikes on VBT trips have comfortable saddles, but you're also welcome to bring your own as long as it's a twin-round rail design. Your Trip Leader can help you install your saddle.
Helmet technology 
A helmet is essential while riding. We do provide free helemts to all biking guests, but if you bring your own we suggest opting for a helmet with in-mold construction with a visor. The in-mold design allows the helmet to be lightweight but sturdy, while the visor will help shield your face from sun and wind.
Smart clothing 
There have been some exciting innovations in cycling clothing, so take advantage of them! Sweat-wicking and cooling layers are a must for bike tours, and clothing with built-in SPF provides further protection from the sun.
Chamois-padded cycling shorts 
Chamois is a special type of padding built into bike shorts that helps protect your skin from chafing; they're absolutely essential for your trip and make cycling long distances much more comfortable.
Bike gloves 
Absorb sweat, ward off blisters, and help keep a strong grip throughout your ride with biking gloves. Fingerless gloves can provide extra ventilation in hot climates, but whichever pair you choose, make sure they're crafted with breathable, moisture-wicking technology.
Arm warmers 
Cycling arm warmers also deserve a spot in your suitcase. They provide an extra layer of insulation when biking colder areas or even for riding after the sun sets on a summer evening.
Universal adapter
Make sure you have a universal adapter - or two - with you for your trip. They convert power voltage so you can charge your phone or laptop abroad.
Gather the gear, and take advantage of the tech tools above for optimal enjoyment of your bike tour. For more tips on what to pack, check out this blog post. Or you can visit the VBT Travel Shop to browse our carefully selected a range of comfortable, easy-packing bicycle and travel apparel and accessories from leading brands such as Sugoi, Patagonia, Eagle Creek, Craghoppers, and others.