Since the 11th century AD, the Burgundy region of France has been synonymous with great wine. Much to the delight of visitors it also offers so much more. Easy cycling routes are hugged by steep limestone hills carpeted in rolling vineyards as you trace your way along the Saone River. Transfers are minimal as cyclists make their way from sleepy French communes to well-preserved medieval cities like Beaune and Dijon—which both served as the home of the Dukes of Burgundy.
Off our bikes we'll dine on legendary Burgundian cuisine—think Beef Bourguignon and Coq au Vin—tour the centuries-old Hospice de Beaunes, meet friendly locals and learn about the area's history during visits to wine cellars, museums and Abbeys. To give you an idea of what to expect on this week-long cycling vacation, we've compiled some of our favorite parts of this unique itinerary to give you a little more insight to this amazing adventure in eastern France.
Cycle through some of the most famous vineyards in the world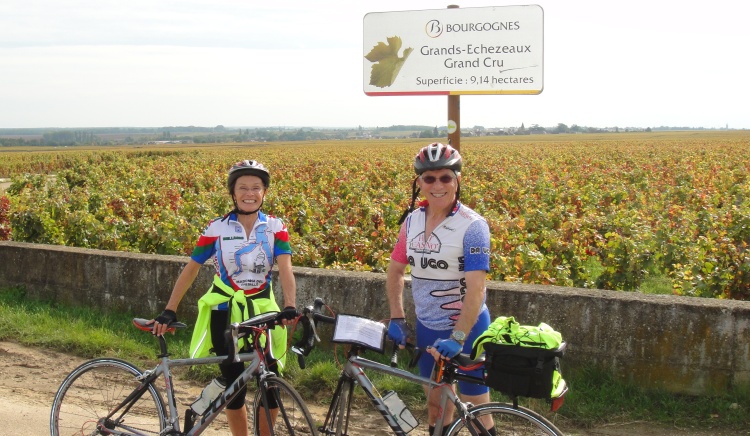 Although this tour is full of scenic riding along canals, by vineyards, and through picturesque communes, one that stands out is the day you'll bike from Beaune to Dijon. VBT Leaders guide you along the famed Route de Grands Crus as you wind through lush vineyards on the narrow lanes used as access routes by the vineyard workers. Take your time to stop and explore villages like Aloxe Corton, Nuits-St-Georges and Morey-St.Denis; as well as famed Pinot Noir vineyards like Romanee-Conti (In 2013, three bottles of the 1990 vintage sold for $72,000!), Chambertin and Clos Vougeot.
Home hosted meal in the Burgundy countryside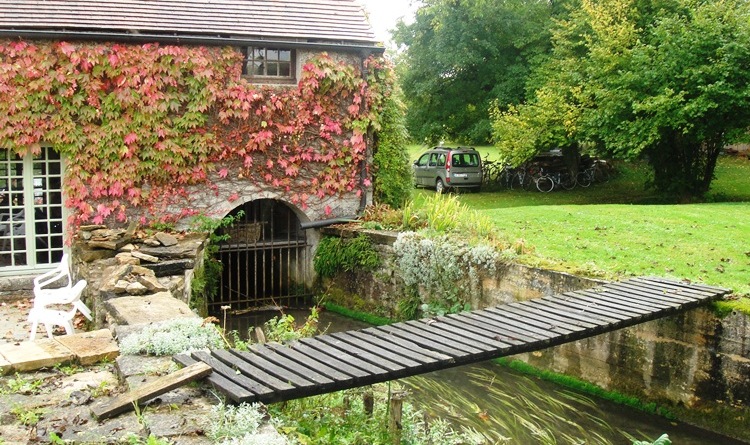 A peaceful morning bike ride through pastoral farmlands outside of Beanue leads us to the Lefils home in Cussigny. Travelers will enjoy a home-hosted lunch with local cheeses, cured meats, freshly baked quiche and a homemade chocolate cake that is the perfect dessert. Mr. Lefils has resurrected an old 16-century stone cutting mill—the small creek that powered the old mill still runs through the garage—into a lovely country home that harkens back to simpler times using reclaimed materials.
Tour the 15th-century Hospices de Beaune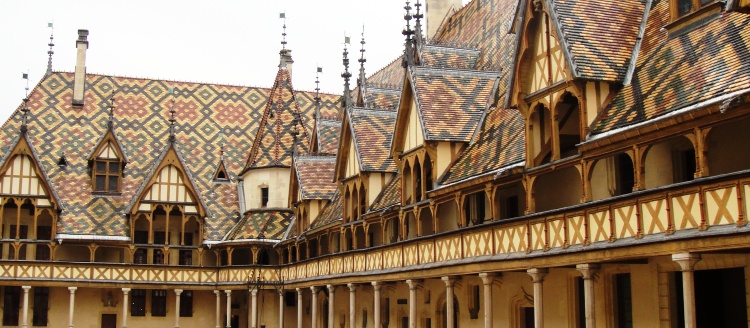 Perhaps the most famed building in all of Burgundy is the 15-th century Gothic masterpiece, the Hospices de Beaune (also known as the Hotel Dieu). Located just a short walk from our hotel, VBT guests will enjoy a free self-guided tour with headphones to learn all about this treasure that led the way for early philanthropic endeavors in Europe. The Hotel Dieu was founded as a hospital for the poor and each room has been carefully recreated to look as it did 500 years ago.
Cooking demonstration and Wine tasting at a Dijon restaurant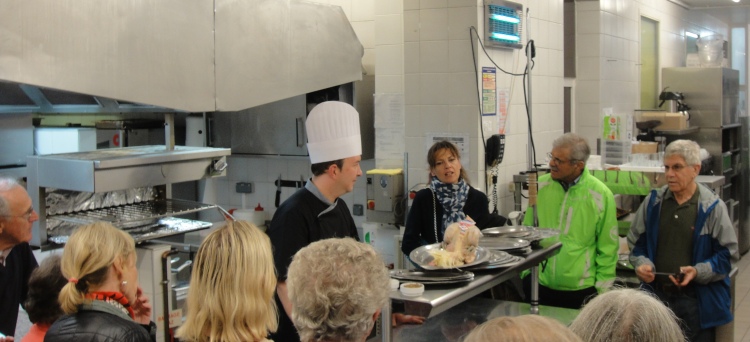 This tour's special farewell dinner (a common feature on all VBT vacations) is at a restaurant called Les Onephiles in downtown Dijon. Before dinner, your group will be treated to a cooking demonstration of the classic Burgundian dish Gaston Gerard Chicken with the head chef; and also a wine tasting of local Chardonnay and Pinot Noir with the restaurant's sommelier before you eat.
Hotel Le Cep, Beaune

All of the hotels offered on this tour are located in the center of each town, making independent exploration on foot during your stay a breeze. One that sticks out is Beaune's Hotel Le Cep. Tucked into the heart of the medieval city, it's clear to see upon arrival that this hotel was made for royalty, literally. The le Cep was Louis XIV's favored accommodation when he visited Burgundy, and it's sure to be yours, too. This unique lodging was established as a private home in the 16th century. Its grounds include buildings built as early as the 14th, and its "newest" structures date from the 18th. The 1547 courtyard is overlooked by Italianate galleries and two lovely towers.
To learn more about the itinerary, view dates & prices, and read VBT travelers' reviews of our Burgundy: the Wine Route biking tour. To request a free VBT catalog and learn more about any of VBT's other exciting destinations throughout the world, click here. If you would like to reserve a vacation or speak with one of our Tour Consultants, please call 800-245-3868, Monday-Friday from 8:30am to 6:30pm EST and Saturday from 10:00am – 3:00pm.