Looking for VBT Walking Vacations? All VBT Walking Vacations have moved to our sister company, Country Walkers. The same tours you know and love, plus exciting new itineraries, are available to book through their website.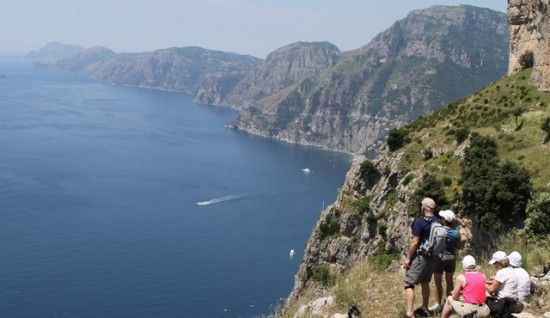 The Amalfi Coast & Capri is our most popular walking vacation and with good reason. You'll get to experience the iconic "path of the gods"—one of the most well-known walking paths in the world—and walk along scenic trails through the Lattari Mountains and the island of Capri. Travelers also get to experience authentic Italian culture through a visit to a pasta-making factory in Gragnano, a mozzarella braiding demonstration in Sorrento and during a walk through Amalfi's Valley of the Mills where travelers learn the ancient art of paper-making. With the addition of amazing local cuisine and historical excursions—like visiting the site of Pompeii—this vacation is an absolute must for any active traveler. But of course we don't want you to take our word for it; we want you to hear it from our previous travelers. We received three 5-star traveler reviews last week from a recent Amalfi departure that we just had to share with you….
Excellent leaders, diverse itinerary, amazing experience!
Reviewer: Nicole from Pennsylvania
# of Trips: 2-4
"We picked the Amalfi Coast based on the variety offered in the daily itineraries. We were pleased with every aspect of this trip, from the organization of the VBT representatives, to the knowledgeable and personable tour leaders, right through to the unsurpassed hiking and scenery.
VBT offers personalized service unlike any other. They are dependable and treat you like family! The relationship between our guides was better than family and it truly made you feel safe, secure and well cared for! As for the Amalfi coast...bring your camera & appetite for amazing food & for adventure! Spectacular!"
Amazing Amalfi Adventure
Reviewer: Nan from Vermont
# of Trips: 1
"My husband and I recently returned from the VBT walking tour of the Amalfi Coast. This tour surpassed all our expectations! We were treated like royalty with fine food, excellent accommodations and beautiful scenery. The trip was care free and well organized, all details were handled with ease. Our guides were the best! They were always prepared, caring and knowledgeable of the area's history, geography and literature. The daily walks were well planned and paced appropriately for our group. The complete tour was handled professionally. We are currently planning our next VBT adventure."
A trip to be Remembered
Reviewer: Lisa from Vermont
# of trips: 1
"I cannot say enough about this trip. The guides were fun, attentive and informative. The accommodations, hikes, food and wine were all exceptional. My significant other is in the food and beverage industry and always rates service and product on a scale of one to ten and didn't rate anything less than a ten! The views were breathtaking. It was our first trip with VBT and we have booked another for 2014!"
To read more reviews of our Amalfi Coast & Capri vacation please click here. To request a walking catalog or learn more about this vacation or any of our other exciting walking destinations from New Zealand to Yellowstone National Park to Provence and beyond please visit http://bit.ly/VBTWalking2014. If you would like to reserve a vacation or speak with one of our Tour Consultants, please call 800-245-3868, available Monday-Friday from 8:30am to 6:30pm EST.