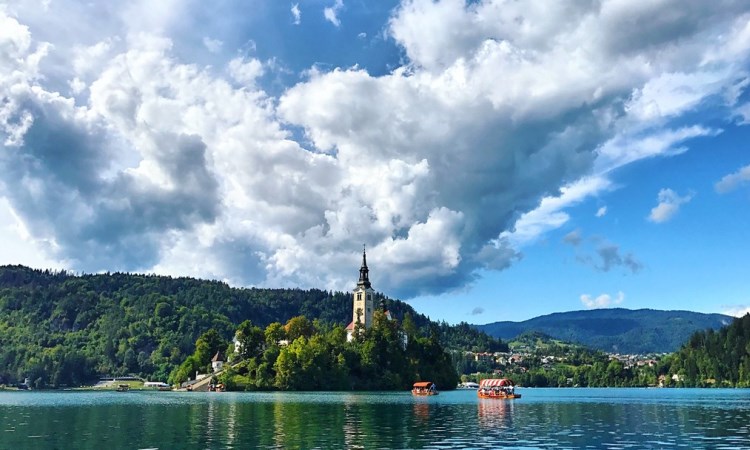 Nestled between Croatia, Austria, and Italy, Slovenia is home to more than 2 million people and beckons visitors with a beguiling combination of larger-than-life natural landscapes and cozy, old-world charm.
In the past, travelers to Europe have often overlooked this jewel of a country because of its small size, but make no mistake: Slovenia's reputation is growing as an unspoiled treasure trove of delights.
Slovenians have a love of active living and the outdoors, and traveling by bike is the ideal way to take in the country's splendors. By booking a biking tour, you can savor Slovenia while it's still relatively untouched by the rest of the world.
Here are three ways Slovenia will surprise you:
Slovenian culture combines Mediterranean, Alpine and Eastern European influences
Although it's considered part of Eastern Europe, Slovenia's geographic position and history has helped it create a unique culture.Slovenia was part of the Holy Roman Empire, then settled by the Alpine Slavs and ruled by the Habsburg Monarchy at the start of the 14th century. With sprawling panoramas of the Adriatic Sea to the southwest, the majestic Julian Alps to the north and the Venetian- and Austrian-inspired architecture of its capital city, Ljubljana, the Slovenian spirit has been shaped by an intriguing melange of influences.
As you bike across the country, you can gaze at the imposing ruins of Roman fortresses and explore Predjama, the Renaissance castle built into the side of a mountain. Those looking for a more laid-back adventure can soak up the sun and tantalize their senses by wandering through Goriška Brda, a prized wine region often called "Slovenia's Tuscany."
Sustainable living is a priority
Denmark and Norway have received plenty of accolades for eco-conscious living, but Slovenia's dedication to sustainable living is giving Copenhagen and Oslo a run for their money. Ljubljana was named the European Green Capital 2016, honored for its car-free pedestrian zones, ample green spaces, well-designed bike paths and low carbon output. You'll find a commitment to green living throughout the country, with an appreciation for conservation and for locally grown food and vegetables - two hallmarks of Slovenian culture.
Slovenia is well-suited for biking
Stunning natural wonders, people-friendly towns and a mild climate warmed by Mediterranean currents combine to make Slovenia perfect for exploring by bike. The country is crisscrossed by accessible biking trails dotted with warm, friendly villages, including those that pass through the pastoral town of Kranjska Gora. Bikers have the option to take in the stunning Triglav National Park, situated among the Alps, and wind along the piers of the Venetian-inspired seaside city of Piran. No trip to Slovenia is complete, however, without a visit to Lake Bled. As you approach the shimmering lake, just 22 miles from bustling Ljubljana, you'll be overcome by the staggering beauty of the scene: the Julian Alps behind the cool blue lake, framed on all sides by lush, velvet-green forests, and punctuated in the center by a tiny island topped with a storybook church and castle. Travelers can bike around the perimeter of the lake to take in its wonder, and then hop on a small rowboat to explore the island on foot.
To learn more about our biking and walking itineraries in Slovenia, click here. To request a free VBT catalog and learn more about other exciting destinations throughout the world, click here. If you would like to speak with one of our Tour Consultants, please call 800-245-3868. They are available Monday-Friday from 8:30am to 6:30pm EST and Saturday from 10:00am – 3:00pm.