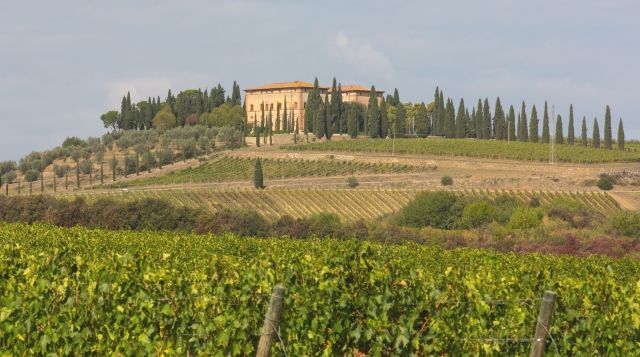 The Maremma region, located in Tuscany's southwest corner, is a wonderful place to visit and explore its preserved Etruscan traditions, rugged mineral-rich hills, 400 miles of picturesque coastline and booming agri-tourism industry. In Etruscan times, the naturally marshy lands were drained by underground canals in order to make use of its nutrient-rich coastal plains and by the early 20th century the region was bustling with farms, grazing cattle, vineyards and olive groves. Today Maremma is a popular destination in Italy to visit agriturismi (aka farm stays), which are working farms with renovated, historic lodgings that have pioneered the way travelers experience Italy's farm to table movement. VBT offers two biking vacations in the coastal Maremma region—one in the northern Maremma Livorno and one in the southern Maremma Grosseto— and both offer unique activities designed to enjoy the area's renowned culinary delights.
The Tuscan Coast
During the tour's two-night stay at the seaside Tombolo Talasso Resort, VBT guest will enjoy an authentic Tuscan cooking class in the nearby home of Chicca Maione, the founder of Cooking in Tuscany—a non-profit culinary organization that emphasizes cooking with fresh, local and seasonal products. After a one-hour cooking class we'll get to dine on our delectable dishes!
Watch a video of Chicca cooking with a VBT group!
http://youtu.be/ld1oxLGGAcQ
This region of Tuscany is also known for its olive oil production and we'll enjoy a behind-the-scenes tour at the family-owned and operated Fonte di Foiano olive oil mill. During our visit, we meet the Di Gaetano family, who lead a private tour of the press and workshop. Afterwards we'll enjoy a tasting and included lunch made with local organic produce grown on site.
Tuscany By the Sea
VBT's Tuscany by the Sea biking tour perfectly partners scenic and rewarding bike routes with stays at locally owned agriturismi that facilitate an authentic experience of growing, preparing and tasting local and organic Tuscan food. VBT travelers will love the nights spent at the Antica Fattoria La Parrina, a 4-star country resort and agriturismo that was featured in Condé Nast traveler. The Parrina is located just a few miles from white sandy beaches and sits on 1,200 acres dotted with vineyards, farmlands, fields of grain, olive groves and 19th century buildings.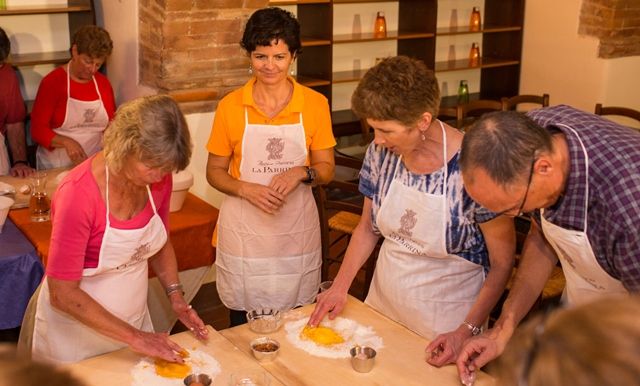 While staying at the Parrina, we'll get to taste authentic Tuscan recipes made with mostly organic, healthy ingredients. On the second night we'll take part in a cooking class conducted by our hosts at La Parrina where we'll learn how to prepare typical Tuscan cantucci—delicious almond cookies that are best when dipped in sweet Vin Santo wine. During our visit we'll also take in the sunset while enjoying an aperitivo out on the terrace overlooking the scenic property and enjoy a group dinner at the hotel's farm to table restaurant.
These are just some examples of the delicious Tuscan cuisine you'll discover on our Tuscany by the Sea and The Tuscan Coast biking tours. To reserve a vacation or speak with one of our Tour Consultants, please call 800-245-3868. They are available Monday-Friday from 8:30am to 6:30pm EST and Saturdays from 10:00am to 3:00pm EST.