You might know Croatia best as a prominent filming location for Game of Thrones, HBO's massively popular fantasy series. While you probably won't run into fire-breathing dragons if you visit the country - probably, but who knows? - Croatia still stands out as one of the most fascinating destinations in Eastern Europe, let alone specifically in the Slavic region.
Croatia has many medieval relics that you can see for yourself on our Croatia: The Dalmatian Islands biking tour. Here are three of the most famous Croatian landmarks from its legendary past that you can discover while vacationing with VBT:
Standing Nearly 2,000 Years: Diocletian's Palace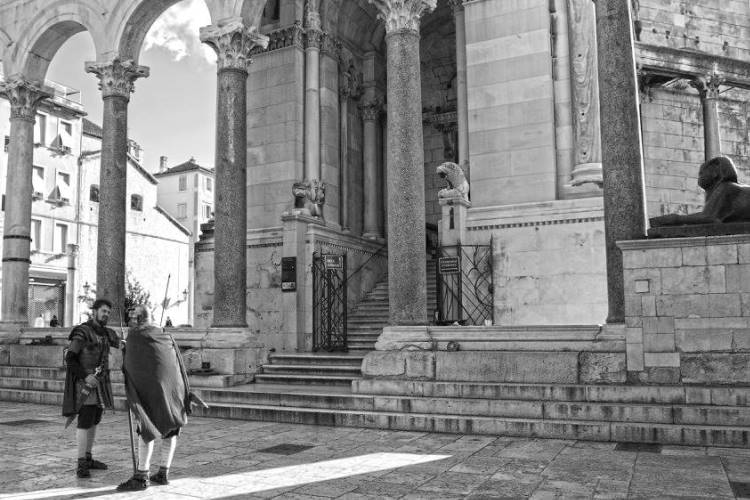 It's remarkable when buildings last two hundred years, let alone two thousand. Diocletian's Palace, in the city of Split, has stood since its construction in approximately 305 A.D. And while this landmark is technically considered a ruin, its bright white edifice, made of local limestone and marble, has survived the ages beautifully.
Originally built by Diocletian, a Roman emperor, as a spot in which to live out his declining years in peace after he abdicated the throne, his eponymous palace remains intact, looking much the same as historians believe it did so many centuries ago. According to CityLab, this stems from the remarkable adaptability of its original design. Instead of being rebuilt and restored after devastating accidents, architects added new attributes while maintaining its stylistic continuity.
The Stunning City Walls of Dubrovnik

Thrones fans will immediately recognize Dubrovnik. Most of the exterior shots of the fictional capital King's Landing are actually this remarkable medieval city on a hill. The famed fifteenth-century architect Michelozzo of the famous House of Medici in Florence, Italy, designed Dubrovnik's iconic rounded walls, according to The Culture Trip. Their color contrasts beautifully against the deep blue of the Adriatic Sea and the terra-cotta red from the roofs of the city's many buildings. Famously, as reported by The Dubrovnik Times, the walls survived a devastating earthquake in 1667. 2017 marked the three hundred fiftieth anniversary of this tragic event, which claimed the lives of thousands.
Hvar: Island and Dry Land Adventures

Set amid a tranquil bay just north of the Pakleni archipelago, Hvar is both a coastal town and the island it's directly adjacent to. Here, travelers can enjoy Croatia's history as well as its contemporary culture: Hvar Town and Island Hvar have medieval castles, such as Fortica, and ancient villages, but there are also miles of sunny beaches to explore and relax on. Lonely Planet recommends that nature lovers take a refreshing stroll through Island Hvar's famous fields of lavender.
To learn more about our Croatia bike tour, click here. If you would like to speak with one of our Tour Consultants, please call 800.245.3868. They are available Monday-Friday from 8:30 a.m. to 6:30 p.m. EST and Saturday from 10:00 a.m. to 3:00 p.m