On this exciting new biking vacation travelers will pedal along pristine bike paths through Eastern Germany while exploring a beautiful region full of both ancient and recent history, breathtaking landscapes and vibrant culture. Join us in 2015 to explore the wonders of this oft-overlooked area of Europe and its baroque castles, world-famous porcelain factory, karst mountains, and cultural hubs like Berlin and Dresden—a city reborn after the fateful bombings of WWII. To learn more about this fascinating itinerary check out some tour highlights…
Sanssouci Palace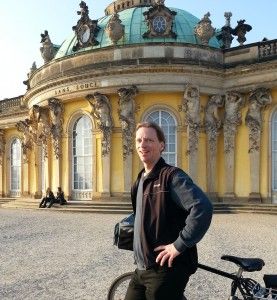 Located about an hour southwest of Berlin, this ornate palace was constructed in the 1740s as a summer residence for The King of Prussia, Frederic the Great. VBT travelers will enjoy the short walk from our hotel in Potsdam and spend a morning exploring the palace and surrounding gardens. During our visit we'll learn about the history of the palace and how Versailles influenced its beautiful Rococo architectural style.
A Boat Ride on the Canals of the Spreewald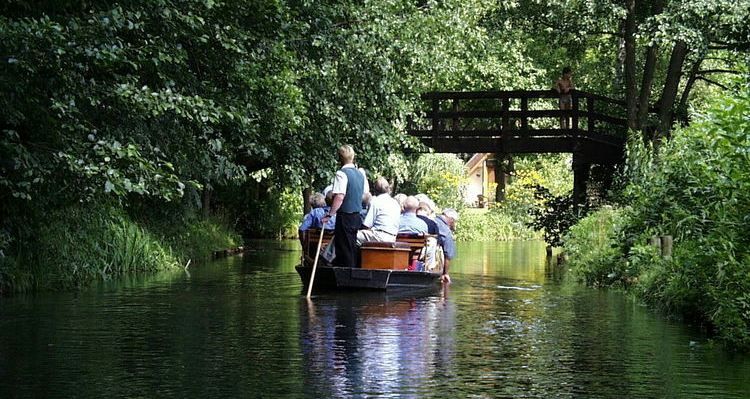 While staying in the village of Burg—located in the heart of the Spreewald—travelers will enjoy a boat ride on a traditional kahn, a flat-bottomed square boat that is propelled by a driver pushing a pole against the canal floor. During our ride, the boat driver will share local stories about the canals that wind through this densely forested area while travelers enjoy some on-board hors d'oeuvres.
Meissen Porcelain Museum
No visit to Meissen would be complete without a visit to its world-famous porcelain factory. Meissen has been producing some of Europe's finest china for over 300 years and the factory is still in operation today. During our tour, travelers will get to see the Porcelain Museum on the grounds of the factory before observing workers make the extravagant dishware.
Bastei Bridge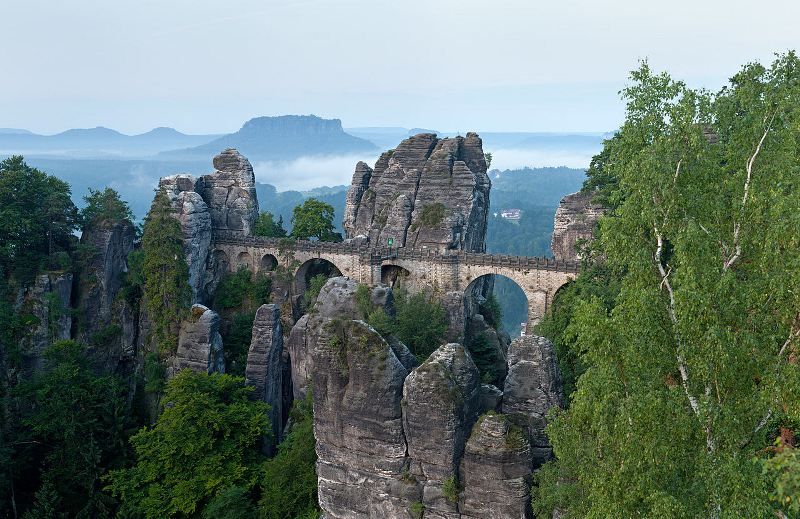 Located in Saxon Switzerland National Park, the Bastei is a jagged rock formation that towers above the Elbe River. In the mid 1800's the wooden bridge that allowed visitors to view the Bastei formations was replaced by a sandstone bridge to fit more naturally with its environs. VBT travelers will take in the view from the bridge before enjoying a pastoral cycle along the Elbe River's bike path, which leads back to Dresden.
Dresden
Our tour concludes in Dresden where VBT travelers will enjoy a walking tour of Saxony's capital city with a local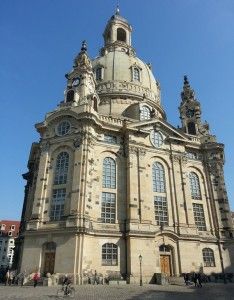 guide. Some of the sites we'll encounter along the way are the Semper Opera House—where notable composers like Wagner and Strauss debuted some major compositions—and the Frauenkirche, a Lutheran church with a complex history. Located in the old city center, the original church was destroyed in the bombings during World War II. During the Soviet rule of East Germany that followed the war, the church ruins were left untouched as a poignant war memorial. However, after the German Reunification, the church was reconstructed and reopened to the public in 2005.
To learn more about how you can visit this region on VBT's Hidden Gems of Eastern Germany tour please click here. If you would like to reserve a vacation or speak with one of our Tour Consultants, please call 800-245-3868 or visit vbt.com. They are available Monday-Friday from 8:30am to 6:30pm EST and Saturdays from 10:00am to 3:00pm EST.