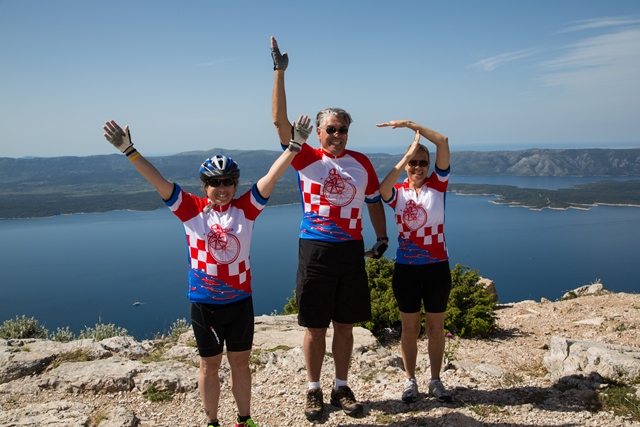 VBT Vacations aren't your average getaway. Our guests travel with us to be immersed in local culture, eat great food, visit fascinating historic sites, drink excellent wine, and to stay active as they explore. At VBT, we believe that being actively involved in your vacation is the best way to really get a feel for your destination. A little preparation can go a long way in assuring that you get the most out of your trip, wherever you decide to go. So we came up with a few suggestions to help you make the most out of your next active vacation.
1.) Try to Speak Learn a bit of the Language
One of the best ways to get to know local culture is by chatting with residents. While all of our Trip Leaders are bilingual and can facilitate any conversation you may have on your trip, learning a few basic phrases in the local language can go a long way. Offering a pleasant "Hello" in the native tongue can be a great ice breaker, helping you interact with locals. And don't assume that everyone can speak English, try learning "Excuse me, do you speak English?" in the local language as many locals will appreciate your effort to initiate conversation in their native tongue, but will gladly switch to English if they are able to.
2.) Learn about Local Food
You can put your language skills to the test by learning how to say certain dishes or ingredients that are popular in where you're going. Even if you don't know how to pronounce things, knowing how to read a menu can be very beneficial while dining out on your own.
3.) Research Before you Leave to Experience as Much as You Can
Use your VBT info packets, browse our blog or take a look at your favorite travel publication to get a sense for the cultural traditions before you arrive. Your interactions are likely to be all the richer for the research.
4.) Don't Over-Pack
Resist the urge to try to pack your entire closet. You'll get a detailed packing list when you book your vacation, but keep in mind that you will be in your bike gear most of the time, so you can bring less regular clothes than you may expect. Watch this video to help you know what to pack.
5.) Lighten Your Load with Extra Layers
Sporting a few layers will keep your bags lighter at the airport and they'll keep you comfy on your bike no matter what the weather's like. And we provide a bike bag to hold your layers as you shed them—or you can always toss them the in the van!
6.) Plastic Makes Perfect
Hold on to any plastic bags you get when making a purchase, you can recycle them when you get home. They hardly take up any room in your luggage, and by the end of your vacation when you've got some dirty clothes, you can keep them separate in a plastic bag and still stow them safely with the rest of your things.
7.) Keep Your Cash Flowing
If you get a little bit of cash in the local currency before you leave the U.S., you'll be able to make a purchase right away once you arrive, maybe a token souvenir or a tasty snack. We also recommend that you call your bank before you travel to let them know that you'll be outside of the country. When your local currency runs out, just use your bank card at an ATM to get more. You'll pay a small fee, but it's usually much less than you would pay when exchanging currency abroad.
8.) Slow Down
One of the best reasons to travel with VBT is that we'll take care of all the arrangements so that you are free to explore, and our pacing allows you to do so. Sure, you'll visit the Duomo in Florence or the Louvre in Paris, but leave some time open for a little spontaneous exploration. Do a little people-watching over an afternoon espresso, take a picnic to a public park, you never know what kind of discoveries you'll make. After all, some of the greatest experiences abroad tend to happen by chance.
9.) Make Your Own Adventure
If you're a little short on serendipity, VBT Chairman, Gregg Marston, has a great trick for prompting a little interaction with the locals. "I always try to get a haircut. I find it to be one of the best non-touristy cultural discoveries. I can always count on a great interaction when explaining that I only want a 'little trim.' Try saying that in Polish or Hungarian!"
10.) Keep an Open Mind
Remember, wherever you may be traveling to, you're there for the experience. Things will be different from home, and that's a good thing. Try to take it all in. Watch how the locals interact, listen to how they speak, taste their local specialties, let your reservations go and really get into all of it. You're likely to find your vacation more rewarding and your memories even richer.
To request a VBT catalog please click here. To reserve a vacation or speak with one of our Tour Consultants, please call 800-245-3868. They are available Monday-Friday from 8:30am to 6:30pm EST and Saturdays from 10:00am to 3:00pm EST.