GROUP TRAVEL PROGRAM
TRAVEL FREE WITH VBT AS A GROUP ORGANIZER OR SHARE YOUR SAVINGS WITH YOUR GROUP MEMBERS!
Bring together your family, friends, colleagues, or club members for a VBT Bicycling or Walking Vacation, and you may join that trip FREE. Making travel discoveries with a group of like-minded companions is a great way to enrich your life. You'll share wonderful memories that will bring a lifetime of mutual warmth and pleasure. Perhaps your siblings and cousins would like to travel with beloved parents to the country of their forebears … Maybe the members of your book club have been inspired by reading Under the Tuscan Sun or A Year in Provence … Or your bicycling, fitness, or neighborhood club might want to deepen the delight of friendship. Not only will your group share unforgettable discoveries, you'll all share in unbeatable savings.
For more information, contact our Group Tour Manager, Amy Forkas, at 1-800-245-3868 x3304 or simply fill out our Group Reservation Form.
Travel FREE with VBT
Simply gather together enough of your friends and family and have them sign up for a VBT Tour, and you can go on that trip for FREE. Here's all you have to do:
Great Deal: Bring 8 people along (plus yourself) and you'll get 50% off your trip cost
Better Deal: Bring 10 people along (plus yourself) and your trip is absolutely FREE!
Best Deal: Bring 16 people along (plus yourself) and you get 2 trips FREE! Plus, your vacation will be exclusive for your group. (Note: Some of our Bike & Barge Vacations require 24 people.)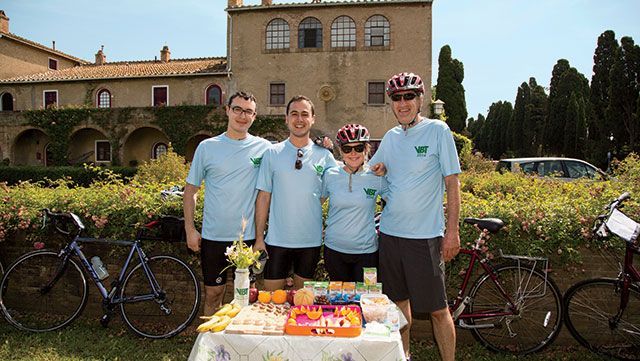 Best Value
Earn Frequent Traveler Credits with every VBT trip. Every time you travel with VBT, you earn a 5% Frequent Traveler Credit for your next VBT vacation—valid through the next calendar year.
Air Package Plus: More convenience and value for less
Includes round-trip international airfare
See more with an extra night or two of hotel accommodations (in most cases) at centrally-located 3-, 4-, or 5-star hotels
Includes daily breakfast
Includes all transfers
More convenience—all the logistics are taken care of in one easy phone call at the time of booking
Option to add low-cost pre- and post-trip extensions
Our airport representatives and Trip Leaders will escort you right to the starting point of your biking or walking tour
Gather Your Group and Travel FREE!
The more people you tell about your travel plans, the greater your chances of finding interested travelers. Here's a suggested list of groups to contact when seeking out other prospective travelers:
Family & friends
Neighbors
Co-workers
College classmates/alumni organizations
Religious and social groups
Community clubs & organizations
Service & professional organizations
Bicycling/fitness clubs
"It is a wonderful experience to see a country by bike at your own pace with a group of fun, diverse people. You become part of the landscape and culture and I believe you get much more out of your time in a new country. The guides are beying terrific and ensure you have the trip of a lifetime. I am hooked on VBT vacations." Robin O.—Spain: Under the Andalusian Sky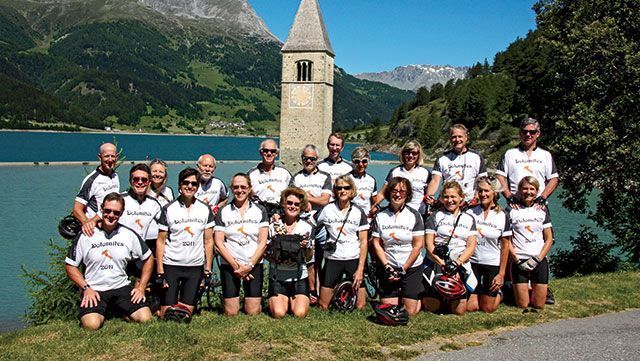 Helpful Hints
Below are some helpful hints from our successful group organizers. There are many ways to spread the word about your trip—here are a few that have worked well.
Watch our Group Tour Program Webinar
Join Amy Forkas, VBT's Group Tour Manager, and Richard Genovese, our Vice President of Marketing, for an informative webinar about our Group Travel Program. Learn how easy it is to become a Group Organizer as our team answers frequently asked questions and shares great tips on how to gather a group of like-minded travelers. CLICK HERE TO WATCH.
Host an Informational Group Meeting
Share details of your upcoming trip with interested travelers at a casual gathering or cocktail party with a travel theme. We can help!
VBT can provide Trip Materials and information to hand out to your travelers. Ask our Group Tour Manager, Amy for details at 1-800-245-3868 x3304.
Mail a Catalog or Trip Itinerary
Excite and encourage travelers to join your group with a personal letter and trip information. We will provide you with a catalog or other trip summary, depending on the size of your group.
Keep in Touch
Whether you pick up the phone, write a letter, or email, you need to create enthusiasm, and keep them abreast of your plans. Create a file and keep track of your contacts. Whether it is monthly or whatever frequency you are comfortable with, keep in touch.
Create a List
It could be from the clubs you have a membership in, your community or your health club, but create a large list to start to reach the widest audience. It is important to ask for addresses, phone numbers and email addresses.
Frequently Asked Questions
What are my responsibilities a Group Organizer?
Your only responsibility is to gather your group of interested travelers for your designated departure. We handle everything else—reservations, customer service, and all needs while on tour.
Is there a minimum group size?
Group compensation is earned with at least 9 paying customers. For an exclusive group departure, a minimum group size of 16 people is required. To have a private barge program, you need 24 travelers to fill some of the barge vacations.
How do I earn the free trip as a Group Organizer?
Simply gather a group of 10 travelers on any VBT Bicycling or Walking Vacation and as the 11th guest of the group you will qualify for our free trip reimbursement.
How is my Group Organizer reimbursement calculated?
The Group Organizer discount is calculated based on the average amount paid per person excluding Travel Protection Plan, business class upgrades, and applied credits. Please note: Group discounts cannot be combined with the Refer-a-Friend Program, Promotional Discounts, or Web Specials.
When do I receive my Group Organizer reimbursement?
You can expect to receive your check in the mail approximately two weeks before you depart.
What happens if I can't get the minimum number of travelers needed to form a group?
You are eligible to earn $150 in Travel Certificates for each new traveler you refer through our Referral Program.
Can my group members make their own reservations?
Yes. In fact we recommend they do just that! Your Group Tour Manager will provide you with a Group Number after you have selected a tour and departure date. Your group member should call our Tour Consultants with the Group Number at 1-800-245-3868, Mon–Fri (8:30AM-6:30PM, EST) and Sat (10:00AM-3:00PM, EST).
What do my group members need to have ready to make their reservation?
They will need to put down a deposit of $350 per person ($500 for Bike & Barge) by check over the phone or credit card. They will also need their contact information, special dietary requests, an emergency contact, and passport information.
Will my group fly together to our destination?
If your group is flying out of the same city, we make every effort to reserve seats on the same flight if seat availability allows.
How do I get Started?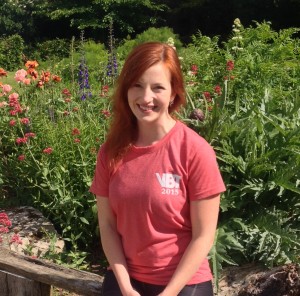 Call our Group Tour Manager, Amy, at 1-800-245-3868, x3304 or fill out the groups tour form here or you can email Amy at aforkas@vbt.com
Please note: Group discounts cannot be combined with the Refer-a-Friend Program, Promotional Discounts, or Web Specials.