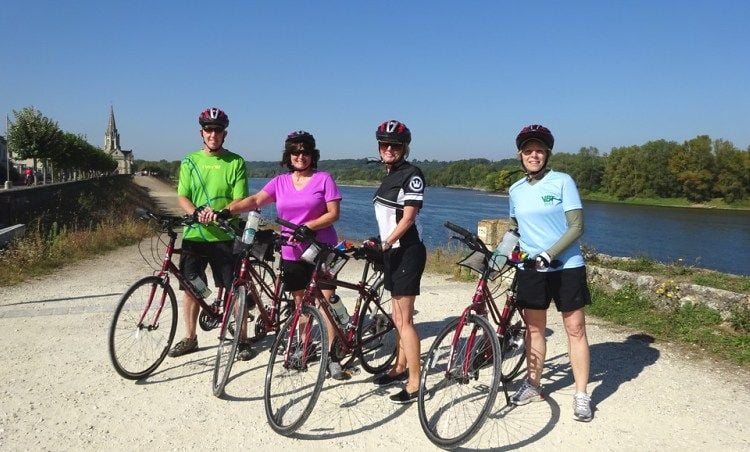 We always appreciate hearing from our travelers and our recent Photo and Story Contest gave us an opportunity to review all sorts of amazing entries, both photographs and written word. The following essay was sent to us by VBT travelers, Robert W. and Nancy T. We loved reading their words so much that we thought we'd pass them along to the VBT community. Enjoy!
Nancy and I were part of the Loire Valley Tour in 2010. Our third lodging, after Bougency and Amboise, was a romantic 17th century castle deep in a former private hunting preserve. Wild boar and stag still roamed. The rooms, flawlessly appointed in the elegance of the Ancien Régime, seemed to be decorated by Hollywood set directors.
Our eighteen riders and two guides dined each night in the castle's main hall with a fireplace you could walk into. Remote as we were, the food was as exquisite as any in Paris. After six days of getting to know each other and our guides, Stephen and Pierre, dining together was the greatest pleasure of the trip.
Being a former naval officer used to dinner in mess dress, I rose to deliver a diplomatic toast. "To la belle France, to Lafayette, and to the French fleet off Yorktown." More toasts followed and the French guides toasted America. I rose again, "Stephen and Pierre, will you lead us in La Marseillaise?" Protesting they needed more help, one of them went in the kitchen and reappeared with two French scullery maids.
Glasses raised, we sang La Marseillaise with free French elan. Most of the Americans knew the words from high school French, or perhaps from the movie Casablanca. It was stirring and awfully good fun.
Feeling wine and bonhomie, we next sang the Star Spangled Banner. I noticed we were not alone. In an alcove off the main dining hall were two French middle-aged couples at a small table by themselves. As we sang the American anthem, they stood and put their hands over their hearts in respect to America. My evening was complete, and I will never forget these respectful French men and women.
Robert W. and Nancy T.
Bellevue, WA