Do you enjoy having friends over for drinks but never know what hors d'oeuvres to serve? We thought we'd share a Gougeres recipe, one of our favorite French pastries, that will surely be a hit. It's simple to prepare, delicious and (at least for us) is a lovely reminder of days spent biking through the Burgundy countryside and stopping at local a pâtisserie for a treat or perhaps a wine tasting.
Ingredients
½ cup of water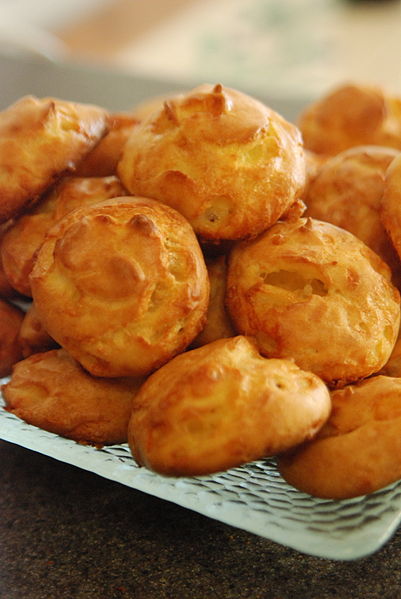 3 tbls butter
½ tsp salt
½ cup of flour
2 eggs
3 oz. grated Gruyere cheese
Directions
Add the water, butter and salt to a saucepan and bring to a medium heat (do not boil). Once the butter has melted, add the flour and stir vigorously until the mixture coheres and pulls away from the sides of the pan. Keep stirring for another minute over the heat and then transfer to a mixing bowl to cool. Beat in 2 eggs—one at a time—into the mixing bowl. Then added the Gruyere until everything is mixed.
Preheat your oven to 400F. Line 2 baking sheets with parchment paper and spoon the dough on to the baking sheet. They should be 1-2 inches in diameter and 1.5 inches apart. A pastry bag with a ½ inch plain tip may be used in lieu of a spoon.
Bake for 10 minutes at 400F. Then lower the temperature to 375F for another 15 minutes. The puffs should be golden brown and crisp on the outside. With a sharp knife, pierce each warm puff with a small slit to let out the steam so that they stay crisp and serve right away. If you want to prep the puffs before serving, simply reheat the puffs at 375F for 3 minutes before serving.