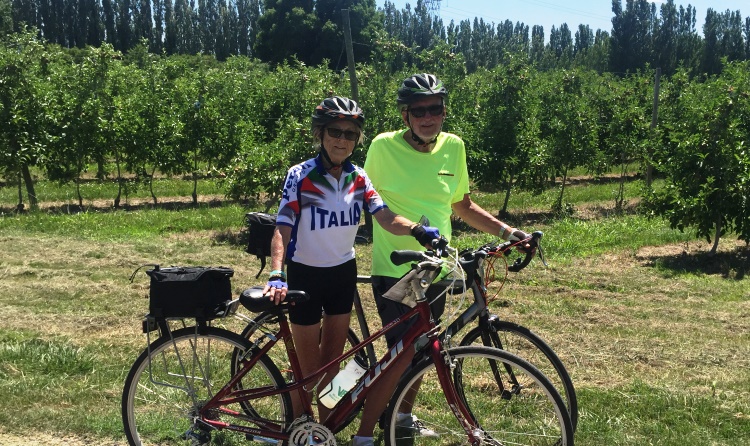 We are continually blown away by the dedication that some of our travelers have to VBT. We have many travelers that take one tour per year and even some that like doing 2 in a year. But perhaps taking the cake is Don and Pat J—our latest featured travelers—a wanderlust-filled couple who live in Colorado and love all the great trekking, climbing, camping, hiking, biking and skiing that the Centennial state has to offer. They have taken over 15 VBT trips in the past 5 years and have already been on our Holland in Springtime Bike and Barge, Sicily: Biking the Southern Coastal Villages and Provence: The Alpilles tours this year. In a few weeks they are off discover Lake Constance with us. And that's just what they've done with VBT, they're also avid campers and travel quite a bit on their own. We caught up with Don after recently returning from a bike and camping trip, and got to learn more about what they love about active travel and some of their favorite aspects of traveling with VBT.
1.) How long have you been a fan of active travel and how did you first hear about VBT?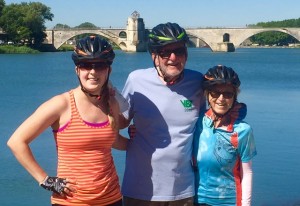 Pat and I travel quite extensively but only started going on VBT trips about 5 or 6 years ago. We found VBT by scanning bike travel websites and the VBT premise of one-stop shopping looked appealing. We pay one fee and receive the entire package; all you have to do is show up. We were not disappointed with the first trip and have been booking about 4 per year since then. We don't really keep track but I would estimate we have been on 16-17 total trips with VBT. We have also taken our grandchildren on about 4 of our VBT trips. They are all in their twenties and are great fun to travel with.
2.) You've traveled all over Western and Central Europe, the United States and even been to Vietnam with VBT. What is it about VBT's vacations that keep you coming back year after year?
We take a few bike/camp trips each year where we are reasonably self-sufficient, using our personal bikes, equipment, repairs, travel, etc and then we throw in a VBT trip in between where we are pampered. VBT does everything but turn the pedals for us. The mix seems to work for us. We both love biking and anywhere, anytime we try to be out going somewhere. No trail is boring if we are on a bike. BUT if you throw in the fresh adventures of cycling abroad I can think of nothing more enjoyable. VBT makes all this possible with their hassle-free travel. No details for us to worry about, we just get on the bike and pedal and seek new adventures. If we have any problems we just mention them to the trip leaders and "lo and behold" they are solved. It's a great way to travel.
3.) We like to incorporate unique activities into our itineraries that bring our travelers closer to local cultures. What are a couple of your most memorable "off-the-bike" experiences from the tours you've taken?
We both love the thrill of new cultures and can have great fun just sitting in a sidewalk café for a few hours and watching and listening to the locals. We love listening to the old timers laugh and joke and tell stories in the bar. The older generation, for the most part, are not obsessed with constantly referring to their cell phones (being connected), etc. They just have fun swapping stories with their friends. Pat and I try to be very low tech on our trips, no phones, no internet, no Facebook, no cameras, just enjoy and take in the experience.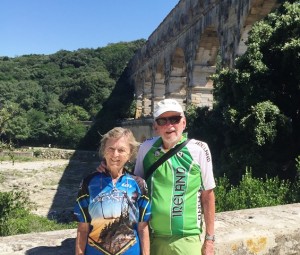 4.) Do you have any favorite trips from the ones you've done?
My favorite trip was, perhaps, Ireland. I enjoyed the cloudy, misty cycling, the green hills and the great beer. I also really enjoyed Vietnam because it was so different than anywhere else we have cycled with a completely opposite cultural experience than from European trips. Both trips were great experiences. Pat's favorite was Poland, she enjoyed the unique attractions, the people, the traditions, etc. Perhaps the most challenging trip was Death Valley, it was brutally hot, over 100- 115 degrees every day. But the trip was a great experience in a sadistic sort of way and we would not have missed it for the world. I love the evening beers after I have pushed myself hard all day.
5.) Have you thought about where you want to go in 2016 yet?
We will probably take 4 or so trips next year with VBT, including the New Zealand trip, perhaps the new Chile trip (although we are not keen on cycling on busy roads) and then, of course, some European trips. We will keep riding till we are on walkers and will keep traveling with VBT!