Everything you need for the perfect adventure
Comfort and Convenience with VBT's custom bicycles and van support
We provide you with high-quality Fuji hybrid bicycles in step-through or step-over frames. Both have upright handlebars and wider tires for a smooth, stable ride. We also offer Fuji road bikes on select vacations, ideal for performance riding. Features include drop handlebars, STI brake/shift levers, and narrower, high-pressure tires for less rolling resistance. Our support team makes sure that your bike is perfectly adjusted for the fit and handling you prefer.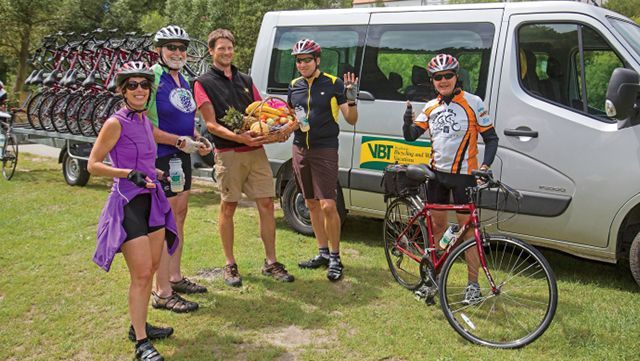 Your safety is of utmost concern to your Trip Leaders. They sweep along your route in our VBT support van, ready to assist in any way. Trip Leaders designate pre-arranged pick-up points, but you can simply flag down the van if you'd like to hop aboard. The van is stocked with water and healthful snacks.
A route just right for you
No two cyclists share the same level of fitness and endurance, so our Trip Leaders have designed multiple routes for all levels of cyclists. They'll go over them with you each day. And if you'd rather take it easy and visit your hotel spa, we'll help you arrange that, too. We have a vacation just right for every level of activity and fitness.
Support vehicles at your service
One of your Trip Leaders will be making sweeps along your route with our outfitted VBT support van, ready to assist in any way. Trip Leaders will designate pre-arranged pick-up points, and you can always flag down the van if you feel like hopping aboard. The van is always stocked with water and healthy refreshments, so even if you don't want a lift, stop us for a cool drink, a fresh orange, or a crunchy granola bar. We carry the bikes on the van roof or in a trailer.
All VBT bicycles include these features:
Up to 3 styles (on most trips)
18 to 27 speeds
Rapid-fire trigger shifters for hybrids, Shimano STI brake/shift levers for road bikes
Lightweight micro-shell bike helmet
Complimentary VBT water bottle
Rear rack
Mirrors
Detachable rear rack bag with safety reflector
Map case
No extra charge for VBT bicycles!*
Hybrid bike with upright handlebars and step-over frame
Hybrid bike with upright handlebars and step-through frame
Road bike with drop handlebars
NEW for 2016!
Introducing BionX Electric-assisted bikes on Select Italy and Vermont Vacations
We listened to your suggestions and are pleased to announce that you will now have the option to ride through the stunning landscapes of Italy and Vermont on an electric-assisted bicycle—or E-bike—which will provide extra support when needed, making for an easier and more comfortable ride. The electric motor is regulated by your pedaling and provides an added boost to your pedal stroke while cycling up hills and responds with less power on flatter terrain. Not only do E-bikes make your ride stress-free but they are also silent, allowing you to enjoy the sights and sounds of your surroundings just as you would on our custom VBT bikes.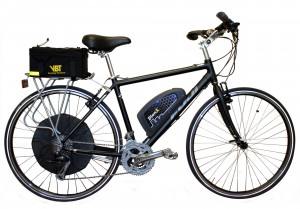 Please be advised: You must be at least a beginner cyclist to operate an E-bike. In 2016, our E-bikes will be available on our Classic Vermont, Tuscany by the Sea, The Tuscan Coast, Tuscan Hill Towns by Bike, and La Bella Toscana: Lucca, Montecatini and Pisa vacations. You must book early to reserve an E-bike as our inventory is limited, and please note that E-bikes are only available in our two hybrid models—there are no E-bikes with road bike frames—and there will be a $250 surcharge for those who reserve.
Click below to watch a brief video about the benefits of E-bikes

*No extra charge for our road bikes and both models of our hybrid bikes.
There is a $250 surcharge to reserve our E-bikes.