Combine cruising and cycling to see the best of Europe
Life on the river is a beloved centuries-old tradition in Europe, where meandering waterways lead the inquisitive traveler to colorful medieval villages and chic cosmopolitan cities, through pastoral landscapes welcoming to bicyclists and walkers alike. From the comfort of your barge, with a group of only 20-24 passengers, you'll unpack just once and for a week feel as if you're on a floating hotel. By combining cruising and cycling, you'll see more of your destination than on your bicycle alone, and your barge provides a fascinating perspective unattainable any other way. You'll moor and cycle along riverside paths, immersing yourself in local culture through discoveries with your experienced, bilingual Trip Leaders, and return to your barge for relaxation and camaraderie, with the help of a full-service crew. Once you taste life on European waterways with VBT, you'll understand why so many of our travelers find Barge and Sail Vacations to be the ultimate in comfort and convenience.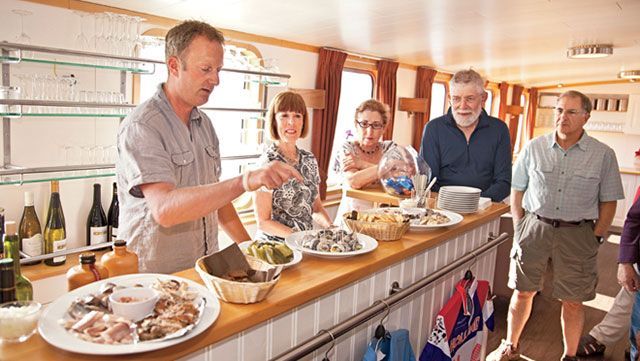 The ultimate in comfort and convenience, with the fun of bicycling built right in
Bike and barge travel transports you through some of Europe's most art- and history-rich destinations, and most fascinating cultures, easily and comfortably. Plus, by combining cruising and cycling, you can cover more territory than on your bicycle alone.
A delightfully different perspective
Your barge gives you an entirely different view of the city and countryside. From your private island in the river, you enjoy a constantly changing panorama of sights and sounds of your mooring points from both far and near. Once ashore, you see it all again from the other side.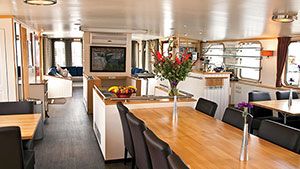 Unpack one time for seven nights
Step aboard with ease and convenience, and away you go! Settle into your comfortable cabin, unpack your bags and prepare for nights of uninterrupted relaxation. Your barge crew and VBT Trip Leaders cater to your every need, even stowing and maintaining your cycling equipment. And since your comfortable accommodations travel along with you, you don't need to repack your luggage until the end of your cruise.
Comfortable accommodations
VBT's barges have ample room for 20-24 passengers, plus a full-service crew. You gather for meals in the dining room, relax on the spacious sundeck and socialize in the stylish lounge, which includes a bar. Your comfortable cabin features individual climate control and a private bathroom with a shower.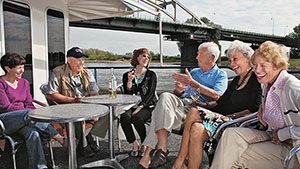 Excellent service
Your barge captain and crew pride themselves on exceptional quality service—after all, you are a guest in their private home on the water! Your crew prepares delicious regional meals and provides stellar service every moment of your cruise. As always, VBT's bilingual Trip Leaders join you for the ride, sharing their secrets for the best cultural discoveries that await on land.
Friendships and camaraderie
The intimacy of barge travel lends itself to building close, lasting friendships. It doesn't take long before you and your fellow travelers feel like family, sharing tales of the day's ride with one another! Time spent cruising provides wonderful opportunities to engage in interesting discussions and laughter.