What amazing things have you seen while traveling? Who have you met? What made you laugh? How has travel enriched your life? These are things we all come away with after a VBT trip, and we're asking you to share your story with us.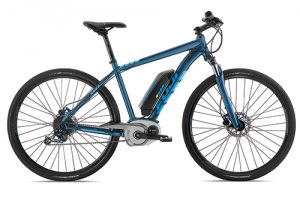 Tell your story below and be entered to win a Fuji Traverse E-bike!*
*Official rules: For the full official rules click here. All participants who have traveled with VBT, are 18 years of age or older, and who submit their entry before February 8, 2018 are eligible for the drawing. Any individuals associated with or acting on behalf of Otago, Xanterra or it's affiliates, Fuji or a VBT competitor or another travel company will be excluded from the drawing. No purchase necessary. The prize, a Fuji Traverse E-bike, is non-transferable and not redeemable for cash. Drawing to take place the week of February 12, 2018. Only one entry per person, winner will be selected randomly. All applicable taxes are the responsibility of the winner and it will require final assembly at a bike shop to activate the warranty. The winner will have to cover the cost for shipping the bike to the shop and the assembly cost. Contest is intended for individuals who are VBT Travelers or genuine supporters of VBT Bicycling and Walking Vacations. This contest is the responsibility of VBT (Otago, LLC.). To obtain the name of the winner, send your name and address to VBT Bicycling and Walking Vacations, 426 Industrial Ave., Williston VT 05495 or send an email to [email protected]. This promotion is in no way sponsored, endorsed, administered by, or associated with Fuji. Standard terms and conditions apply.
By submitting any content to VBT Bicycling and Walking Vacations, you represent and warrant that:
You are the sole author and owner of the intellectual property rights thereto;

All "moral rights" that you may have in such content have been voluntarily waived by you;
All content that you post is accurate;
You are at least 18 years old;
Use of the content you supply does not violate these Terms of Use and will not cause injury to any person or entity.
You further agree and warrant that you shall not submit any content:

That is known by you to be false, inaccurate or misleading;
That infringes any third party's copyright, patent, trademark, trade secret or other proprietary rights or rights of publicity or privacy;
That violates any law, statute, ordinance or regulation (including, but not limited to, those governing export control, consumer protection, unfair competition, anti-discrimination or false advertising);
That is, or may reasonably be considered to be, defamatory, libelous, hateful, racially or religiously biased or offensive, unlawfully threatening or unlawfully harassing to any individual, partnership or corporation;
For which you were compensated or granted any consideration by any third party;
That includes any information that references other websites, addresses, email addresses, contact information or phone numbers;
That contains any computer viruses, worms or other potentially damaging computer programs or files.
 For any content that you submit, you grant VBT Bicycling and Walking Vacations a perpetual, irrevocable, royalty-free, transferable right and license to use, copy, modify, delete in its entirety, adapt, publish, translate, create derivative works from and/or sell and/or distribute such content and/or incorporate such content into any form, medium or technology throughout the world without compensation to you.