A Typical Day Aboard
There are many unique aspects of our Waterways vacations that you don't experience on one of our traditional tours that utilize multiple hotel stays. For example, you only have to unpack your luggage once, you'll get to enjoy a constantly changing panorama from a different perspective while cruising on the water, and in addition to our Trip leaders, and the ship's crew will attend to your every need. To get a feel for a typical day spent on a VBT Waterways vacation, read the following timeline of events.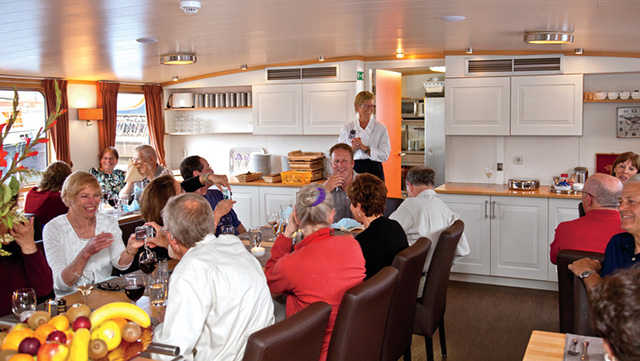 7:30 a.m.
Wake up to a full spread of local breakfast options courtesy of your private, onboard chef. Sometimes you'll have an early adventure to fuel up for. For example, one morning in Holland you'll get an early start in time to catch all the action at the world's largest flower auction in Aalsmeer from a special gallery, where for a moment or two, you'll be at the center of the international flower trade.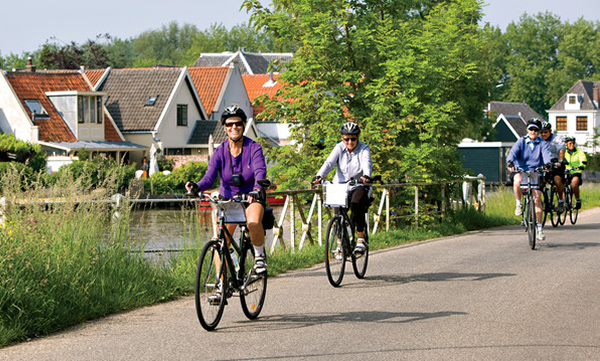 9:00 a.m.
Set out for the first ride of the day. Perhaps you'll pedal through the vineyards that line the Moselle Rover in Germany, or follow the promise of spring through tulip-laden Holland, or cruise along easy paths to Ghent—a historic city that was founded over 1,400 years ago and still boasts many beautiful buildings dating to medieval times.
11:00 a.m.
Meet up with your Trip Leaders and the VBT support van at an arranged time and place to refill your water bottle and enjoy a healthy snack. Then continue cycling through beautiful landscapes and quaint villages before stopping for lunch.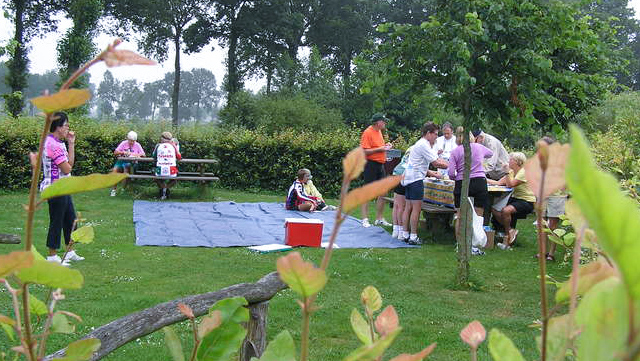 12:30 p.m.
Gather with your fellow travelers for a home-hosted picnic at the farm estate of a local Frisian couple that features a mini nature reserve of pretty gardens, tranquil water features, budding trees and beautiful wooden benches that they carved. Or perhaps find a quiet café on your own as you make your way to Trier, an ancient German city that was founded by the Celts in the 4th century BC.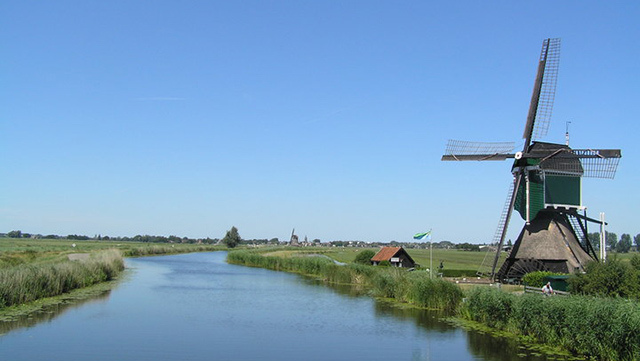 2:00 p.m.
Back on your bike, continue cycling through the wine villages along the Moselle, or stop to view the historic locks of one of Holland's famed canals. Or perhaps set sail and try your hand at assisting your ship's captain navigate the calm waters. Or you can simply sit back on deck and enjoy the journey while looking out for seals and other marine and birdlife.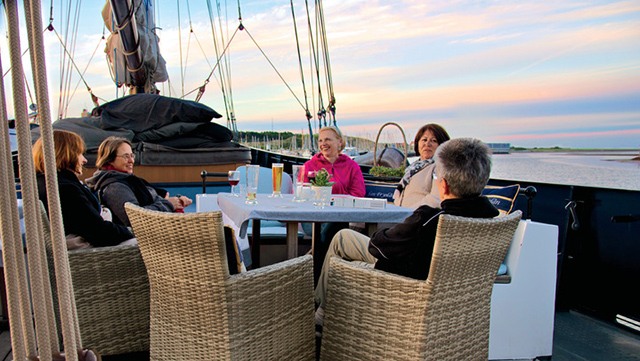 4:30 p.m.
Return to your room and enjoy some free time to relax on the sun deck. In Holland, local hosts escort you back to their home for a cup of coffee or tea and a light snack. During your conversation, you'll learn about local traditions and everyday life in Enkhuizen, a historic town that used to be a harbor town for the Dutch East India Company.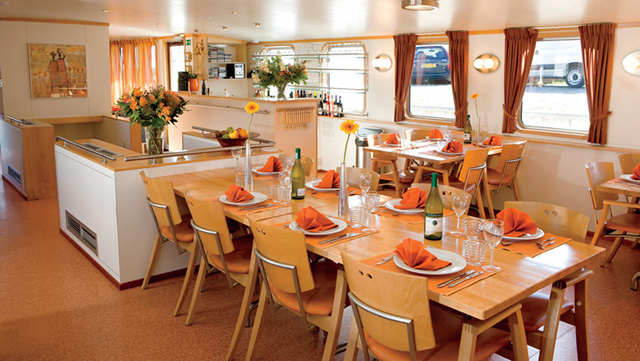 7:00 p.m.
It's time for your own personal chef to provide a window into the regional cuisine as he or she prepares a delicious meal for your group. While you eat, share stories of your day with new friends over a complimentary glass of wine in the ship's dining room. In Belgium, you may be treated to a tasting of the country's world-renowned style of beer.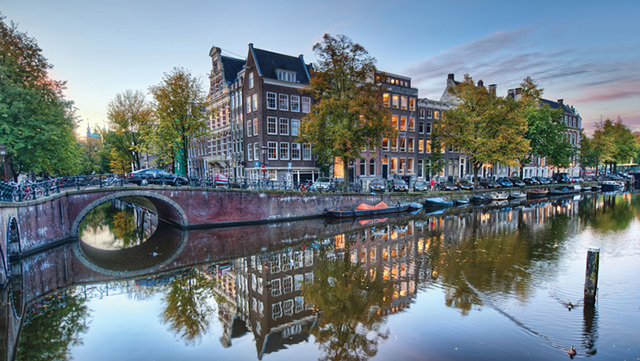 9:30 p.m.
Sit back and enjoy the stars as you soak in a hot tub on the deck of your sailboat. Or perhaps leave the barge from where it's docked and stroll into town to browse its historic streets, enjoy a nightcap or take in some local music.