DISCOVER OLD WORLD PATHWAYS & WATERWAYS
Traveling by boat from port to port enhances your active day by letting you draw your breath, relax, and see northern Europe from a whole new perspective. Along the way, you'll be tended to by an experienced crew dedicated to your comfort and well-being. And something else we truly love and appreciate about sail travel: an intimate ambiance that really lets you connect with fellow travelers, building friendships that continue even after your vacation.
A Day in the Life of a Sailing Vacation

Picture yourself rising to a leisurely breakfast—there's no need to pack up, so take your time and savor your aromatic coffee under the morning sun. When it's time to explore, step off the boat and into port and set off on the day's adventures. Enjoy the best of both worlds and bike or walk around historic villages each day along with experiencing the waterways by boat.
After your day of exploring, return to snacks and a warm welcome aboard. Later, a delicious three-course meal awaits. Then, the evening is yours. In most ports, you can easily walk back into town, if you wish. Or watch the lights twinkling along the shore as you settle in for a relaxing rest.
Sail Comfortably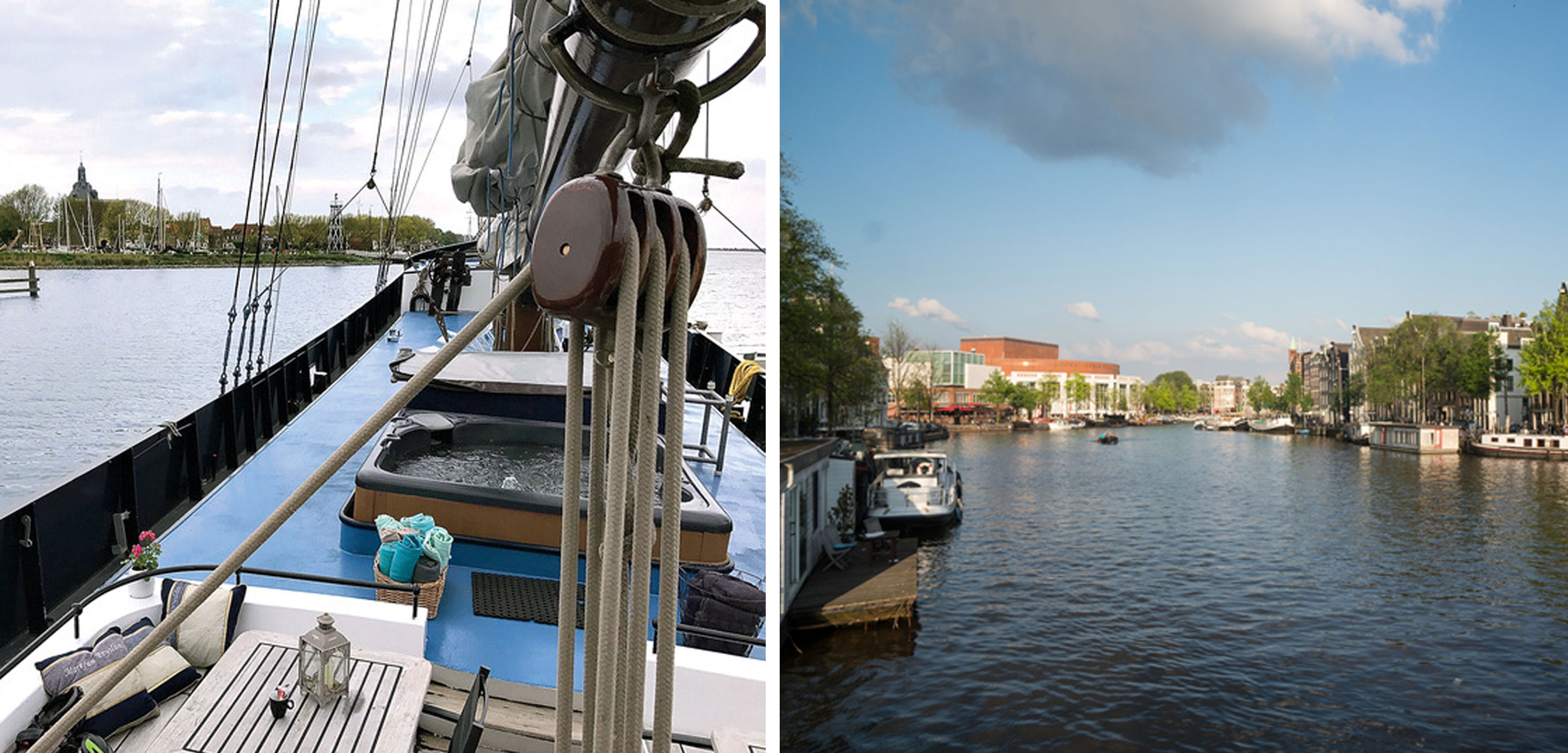 Calm, sheltered waterways of the inland sea and freshwater lakes make for a delightfully smooth sailing experience. The boat docks at night so you can rest easy alongside the shore. Enjoy a slower pace than our Barge tours as there are no lock/bridge opening times to contend with.
Celebrate Friendships Old and New

Gliding along by boat and cycling together immerses you in the fellowship of like-minded travelers, whether it's your traveling companion or someone you just met along your route. There's no more pleasurable way to strengthen bonds than by sharing experiences—and reminiscing over gourmet meals aboard and ashore.
Unpack Just Once

Relax! And make yourself at home. Your comfortable vessel is your haven for the duration of your trip. Without the hassle of packing and unpacking, you'll have more time in the morning and evening to pursue your interests. Plus, less time transferring to new hotels means you have more time to connect with the country and people you've traveled to meet.
Unparalleled Service and Cuisine

A full-time staff of multi-lingual crew members is dedicated to your comfort, and with no more than 24 guests aboard, you'll be sure of personalized attention. At mealtimes, delicious dishes using fresh, local ingredients set the standard, and savor regional wines and a sampling of cheeses at dinner. A spacious sundeck and cozy lounge and bar offer even more opportunities to socialize and have fun.
What makes our sailing vacations so special?
Travel by Sailing Ship
Sail aboard a three-masted schooner, capturing the romance of a bygone era and enjoying the sun and fresh air as you sail toward the unique mudflats and nature reserves of the North Sea coast—perhaps even taking the helm yourself!
With all our Waterways vacations, the water is generally calm as you cruise through relatively sheltered waterways. Enjoy the companionship of a small group of 14 – 24 travelers like you. Imagine the freedom of unpacking just once, relaxing on the deck of your floating hotel, being served by a devoted crew and your own professional chef. Join us and bike or walk your way through Europe on a Sail vacation with VBT and experience the ultimate in convenience, comfort, and conviviality.