A closer look at your floating Accommodations
The beauty of traveling by barge or sailboat is that the vessel becomes your home during your VBT vacation. You'll love the convenience of unpacking only once and having a dedicated crew, without sacrificing the amenities you expect from a hotel. Each ship features a dining room, bar, lounge, sundeck bike storage and private cabins .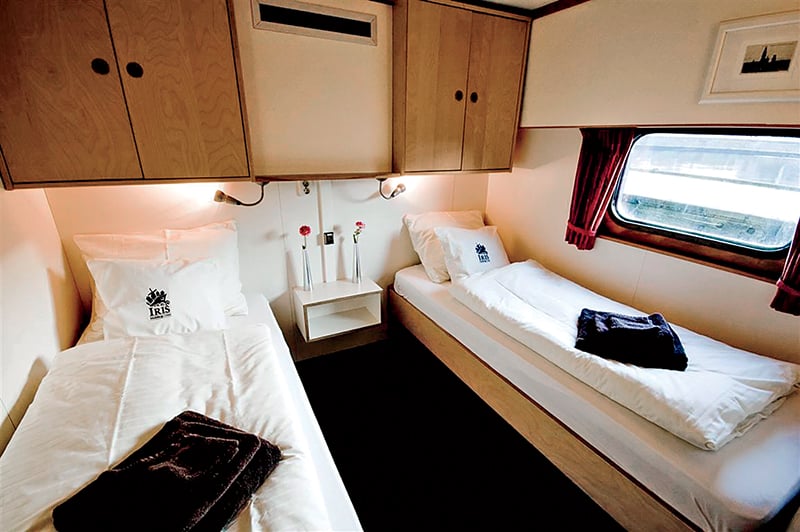 Private Cabins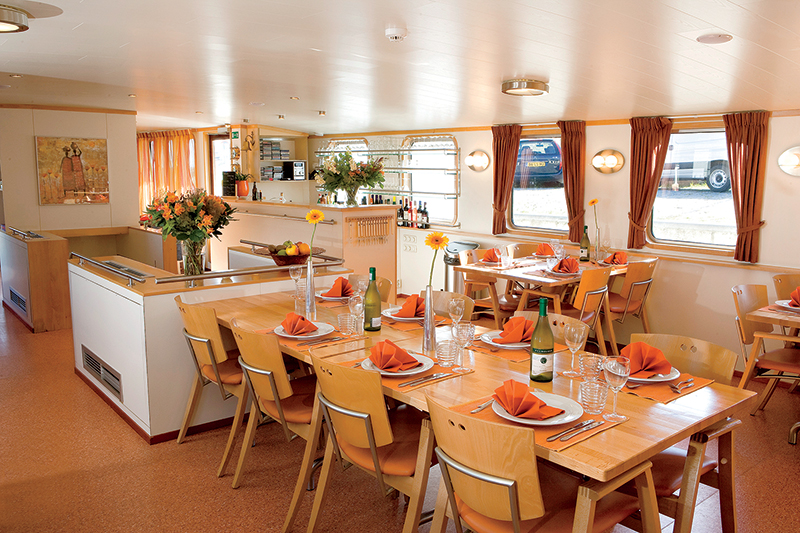 Bright Dining Spaces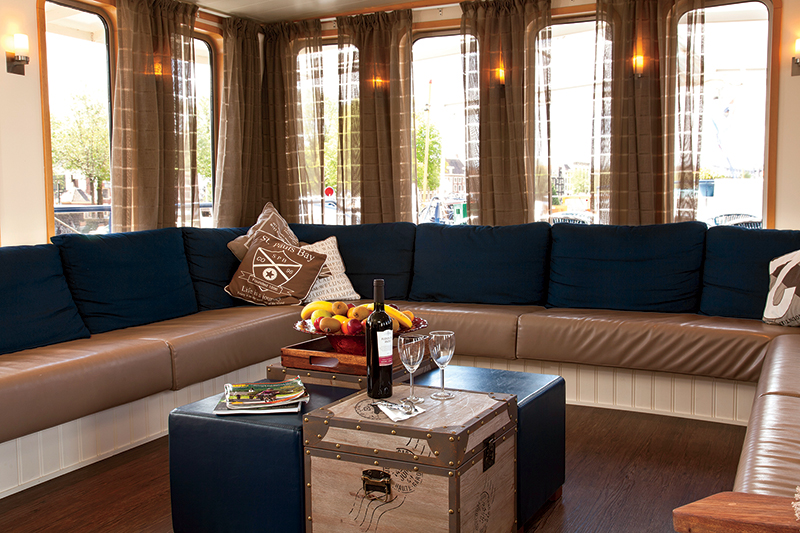 Comfortable Common Areas
Private Cabins Include:
Two lower single beds per cabin
Air conditioning (Barges include heating)
Private bathroom with shower
Complimentary VBT water bottle
Hair dryer
Safe deposit box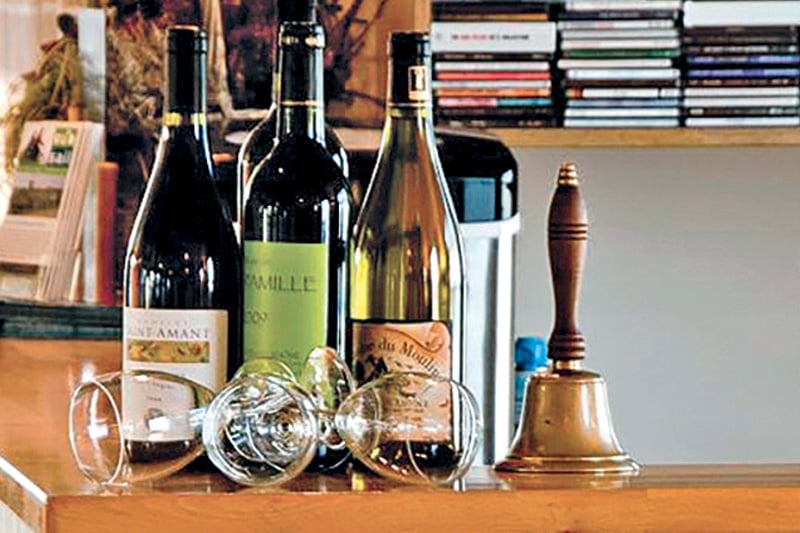 Bar On Board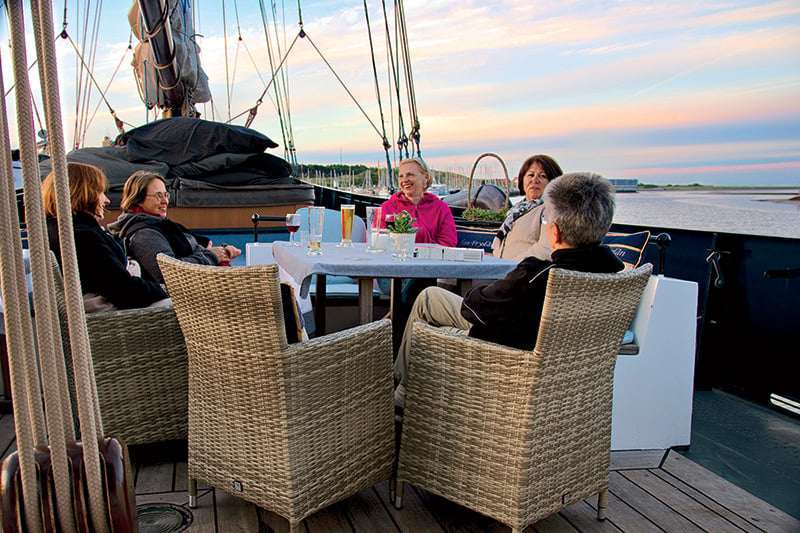 Sundeck
---
ship descriptions, deck plans and cabin layouts
Our Barges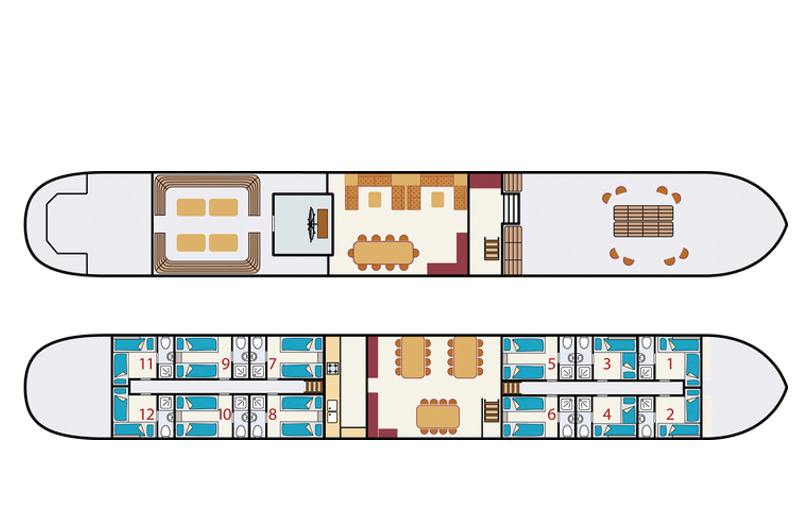 Barge Fiep
A charming, renovated passenger ship, the Fiep has an atmosphere that is delightfully warm and welcoming. Try fresh, local cuisine courtesy of your private chef, relax in the spacious lounge, raise a glass at the cozy bar, or bask in the riverscapes from the sundeck.
Length: 147ft.
Width: 21ft.
Cabins: 12
Staff: 4
Tour: Holland and Belgium Bike & Barge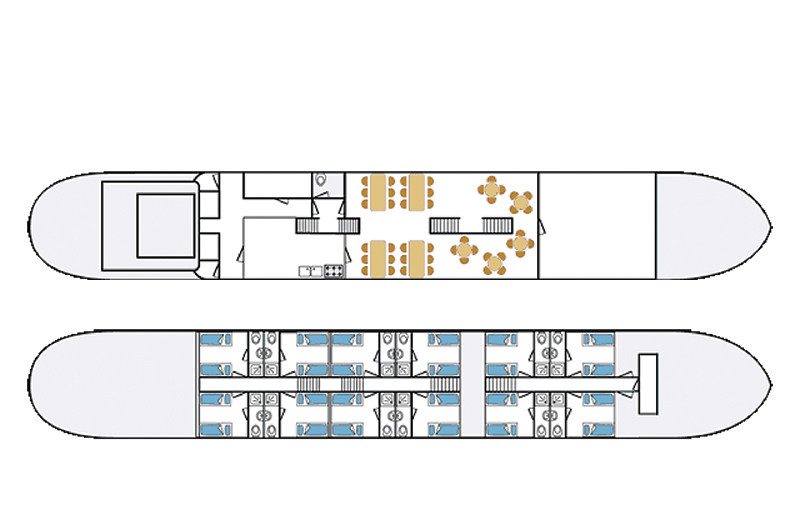 Barge Lena Maria
The lovely Lena Maria, reborn as a passenger barge in 2006, has spent the past decade escorting travelers through the Low Countries' serene canals and rivers. While aboard, share a toast on the sundeck, savor fresh-cooked meals or unwind in the homey lounge.
Length: 147ft.
Width: 21ft.
Cabins: 12
Staff: 3
Tours: Holland in Springtime Bike & Barge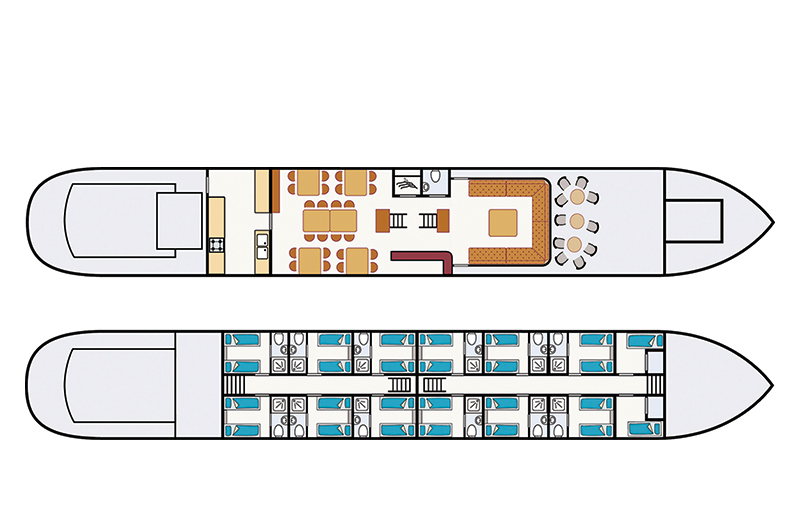 Barge Iris
The only cargo the Iris carries these days—after being impeccably refitted for cruising in 2005—are passionate travelers and their bikes. After each day's ride, you'll love returning home to enjoy her cozy lounge, bar, or sundeck to socialize and unwind.
Length: 147ft.
Width: 21ft.
Cabins: 12
Staff: 4
Tours: Heart of Europe Bike & Barge
Holland in Springtime Bike & Barge
---
Our Sailboats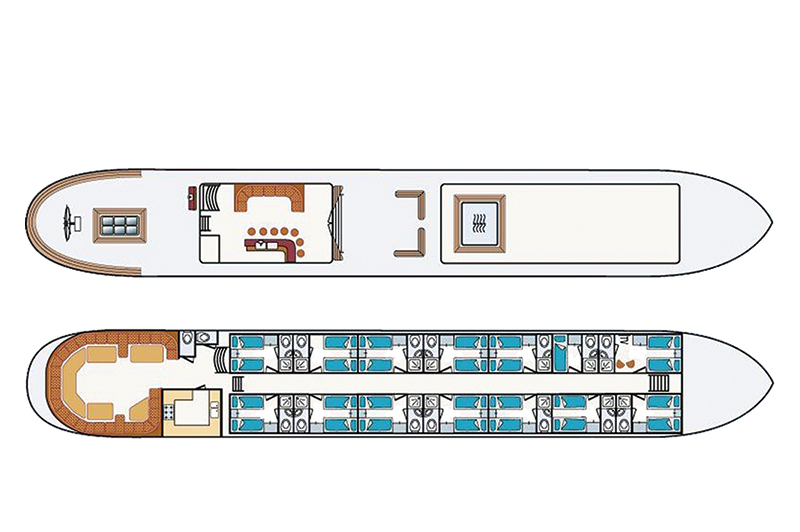 Ship Mare fan Fryslân
Built in 1960, the Mare fan Fryslân spent years as a freight ship before she was exquisitely renovated for leisure travel as a 3-masted schooner in 2006. Enjoy socializing with your fellow riders in the comfortable lounge area or soaking in the outdoor hot tub after a lovely day's ride.
Length: 203ft.
Width: 23ft.
Cabins: 12
Staff: 4
Tour: North Holland and Friesland Bike & Sail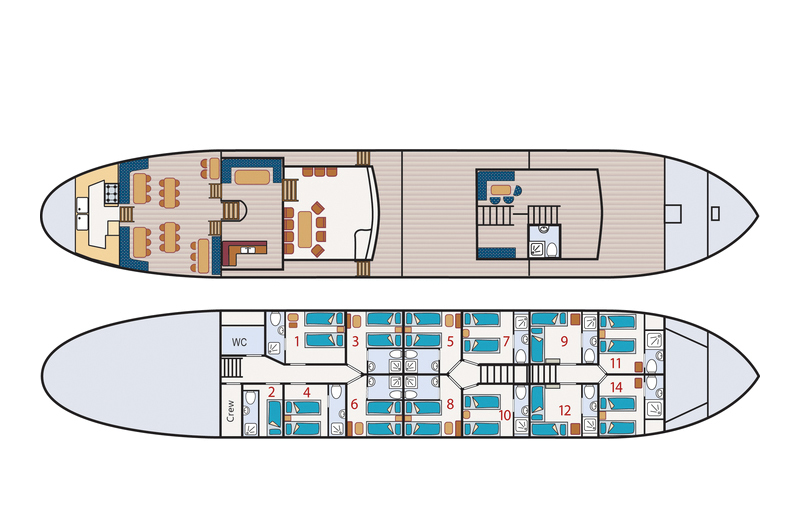 Ship Leafde fan Fryslân
This impressive three-masted barquentine will make her maiden voyage in 2018 after being renovated this year. You'll love retiring to her cozy cabins after a rewarding day, or sharing stories with new friends on the gorgeous sun deck or in the well-stocked bar.
Length: 165ft.
Width: 23ft.
Cabins: 12
Staff: 4
Tours: Around the IJsselmeer: Bike & Sail North Holland