Lake Champlain's Island Line Trail & Bike Ferry Reopens After Extensive Flood Damage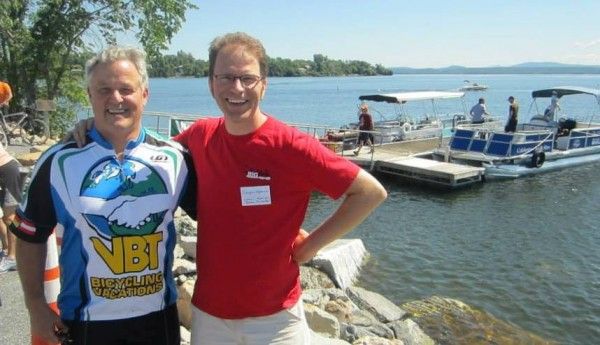 In 2011, record flooding in Vermont severely damaged the Colchester-South Hero causeway section of the Island Line Trail – a 12.5 mile stretch of rail trail that runs from Burlington to the Champlain Islands open to bicycling, walking and inline skating.  After two years of arduous work and generous support from the community, the trail has reopened along with the Bike Ferry that serves as the final link to connect the trail with the island town of South Hero.
On Saturday June 15th, community members and businesses gathered on a sunny morning to celebrate the success of The Big Fix campaign and the resumed operation of the Local Motion Bike Ferry. VBT is proud to be the premier sponsor of the Bike Ferry including having given a substantial donation towards the purchase of a new ferry boat. Our President, Gregg Marston, was on hand to address the crowd and celebrate the grand reopening. Now all we want is for all of you to do your part and get out there and ride this one-of-a-kind Vermont trail with breathtaking views of Lake Champlain and surrounding mountains!
Local Motion's Pictures from the Event