Oktoberfest 2011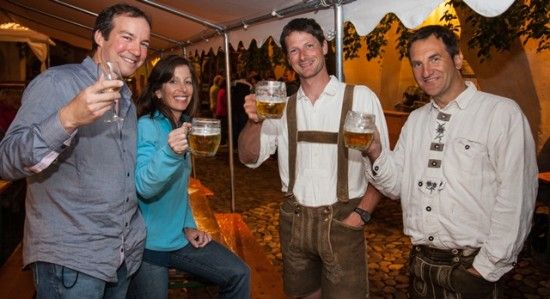 In Germany, it's getting to be that time of year when lederhosen and giant pretzels are almost as ubiquitous as large, glass steins of locally brewed beer. Oktoberfest is an annual festival held in Germany from late September and into early October. Now boasting over 5 million visitors each year, the world's largest fair was a long time in the making.
Oktoberfest was initially brought about by a royal wedding between King Ludwig I and Princess Therese of Saxony-Hildburghausen, which took place on October 12, 1810. A public affair, all of Munich was invited to take part in the festivities. Locals enjoyed an entire day's worth of beer and good company at Munich's city gates until the event eventually closed with a horse race to celebrate the royal union. As it turns out, the race was so popular that it was decided to hold it again the following year, with the addition of an agricultural fair. After a few consecutive years of operation, amusements and small beer tents were also added to the festival.
Oktoberfest has continued to be held in Bavaria since 1810. However, the festival has undergone many changes over the years. Having ended in 1960, the horse race that got it all started has since been taken out of the festival. The beer portion of the event, however, has picked up considerably since the first few Oktoberfests. Additionally, the annual event has expanded from a small, one-day local fair, to a large, 16 day festival, drawing visitors from all over the world.
Today, Oktoberfest features rides, attractions, and widely celebrated, traditional German music. Tents are stocked with Märzen style beers, brewed by many German breweries. The refreshments are complemented by plenty of delicious German fare including pretzels, sauerkraut, and many varieties of sausage, even a German favorite—Weisswurst (white sausage).
Oktoberfest is truly an event worth experiencing and there's still some time to catch Oktoberfest 2011. The festival begins on September 17 and comes to a close on October 2. Join VBT on our Czech Republic, Germany & Austria vacation and sample a great portion of German history as well as some of the best beers in the world. Don't forget your lederhosen!