The Eiffel Tower: Beacon of the City of Light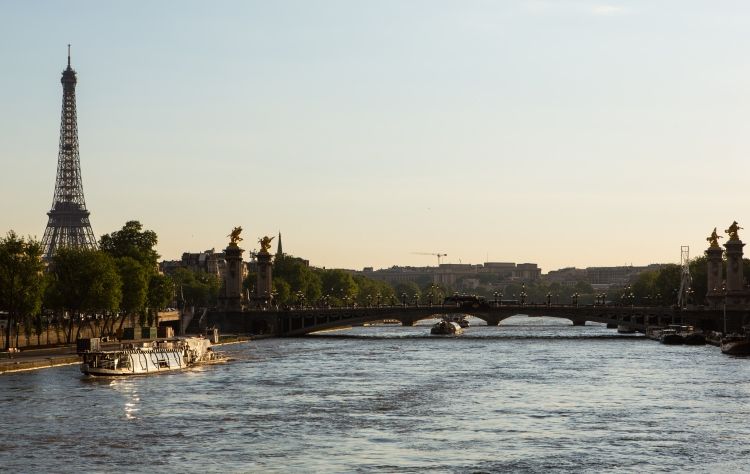 It was on this day, December 15, that Alexandre Gustave Eiffel came into the world. Born in 1832, "The Magician of Iron" would ultimately be responsible for designing some of the most iconic structures ever made, including his pièce de résistance, La Tour Eiffel.
Raised in Dijon, Eiffel left his home in eastern France for Paris in 1852 when he began his studies at Ecole Centrale de Paris. The young engineer graduated in 1855 and was commissioned to take charge of the construction of Pont de Bordeaux, a railway bridge, in 1857 at the age of 26. He moved on to help build locks for the Panama Canal, and eventually took charge of the wrought iron, Maria Pia Bridge in Porto, Portugal.
It was here, in his construction of the Maria Pia, that Eiffel honed his flair for iron works. Latently innovative, the Maria Pia's span was the largest of all of the world's arch bridges at the time and the design proved to be inexpensive and efficient, as well as visually compelling.
Shortly after completing work in Portugal, Eiffel was selected among a group of over 700 applicants to raise a monument in Paris for the Exposition Universelle of 1889, a world's fair organized to commemorate the 100th anniversary of the French Revolution. Construction went relatively smoothly, and little controversy arose until after the tower's completion.
Today the Eiffel Tower is celebrated as the most prominent feature in Paris' skyline, however in its early years, the tower was rather unpopular. Many Parisians felt that the modern edifice took away from Paris' natural beauty. In fact, even 20 years into its lifespan the French government considered removing the Eiffel Tower when its initial lease expired in 1909. Surprisingly, it was not the Eiffel Tower's aesthetics that solidified its place in the 7th arrondissement of Paris. Rather the tower's function in telegraph messaging was too important for it to be removed.
Eventually, the Eiffel Tower garnered popular support, and Gustave Eiffel's name continues to live on in the form of the 1000 foot lattice tower, in Paris' central west district. Experience the "City of Light" from a classic vantage on an extension in Paris on any one of VBT's Biking Tours in France. Have you visited the Eiffel Tower? Do you find the tower to add or detract from Paris' beauty?