Meet Longtime VBT Travelers Bill and Noelle B.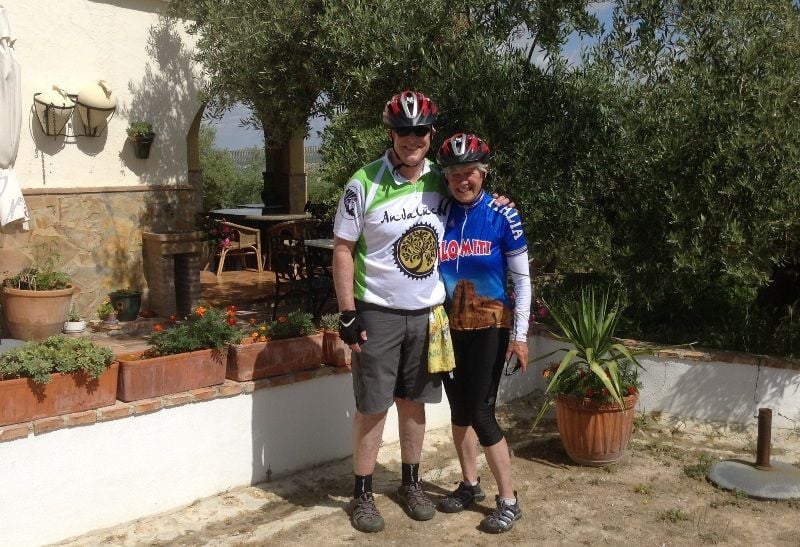 One the most rewarding aspects of providing active vacations is that we have a growing contingency of multi-time travelers who enjoy a different VBT experience every year—and sometimes twice in one year! Bill and Noelle B. are the perfect example as they took their 14th and 15th VBT tours this year on Tuscany by the Sea and Spain: Under the Andalusian Sky. We had a chance to catch up with them to learn a little more about why they love to travel with VBT.
What about active travel appeals to you and how did you find out about VBT?
We learned about VBT from biking friends many years ago and since then the active vacations we have taken have allowed us to experience the local environment in each of the countries we have visited with VBT much more effectively than any other form of tourism. As an example, you can read extensively about the death and destruction that occurred in Europe during World War I. However, until you ride through a small French village and pass the inevitable memorial to the Great War and see the number of names on that memorial, it is difficult to appreciate just how devastating that war was.
What is it about a vacation with VBT that keeps you coming back year after year?
VBT provides outstanding service throughout the entire vacation experience. We have taken many trips with you over the years, and there has never been an occasion when we were not met at the airport upon arrival as promised. Similarly, the trip leaders we have had without exception have been outstanding technicians and representatives of their countries. The value for the dollar is impossible to beat for the services provided, in our opinion.
You mentioned how VBT tours allow you to experience the local environment of your destination much more effectively than any other form of tourism. Since you recently returned from the Andalusian region of Spain, could you tell us a little about some of the cultural highlights of that tour?
We had learned about the Islamic influence in southern Spain prior to our VBT trip, but to visit the Mosque-Cathedral in Cordoba was amazing. In the 13th century when the Catholic monarchy defeated the Moors, instead of destroying the huge mosque that existed in Cordoba, the Spanish government added a cathedral over the years to the mosque. Now there is this unique blending of the two religions in this complex. Our visit to the Alhambra Palace in Granada remains one of the truly memorable experiences we have had in our many VBT trips. It ranks along with Angkor Wat in Cambodia as one of the true wonders of the world in our opinion. Again, the Moorish influence is apparent and has been preserved in Spain rather than destroyed.
You've traveled with VBT for over ten years to places like Italy, Vietnam, France, Hungary, Costa Rica, and more-what has been your favorite vacation with us so far and why?
Noelle—my favorite trip was to Croatia in part because of the challenging biking, the beautiful scenery, the home cooking class and dinner, and the excellent trip leaders.  Also, the pre-trip in Dubrovnik and the post-trip in Split were outstanding.
Bill—My favorite trip was to Vietnam. As a Vietnam veteran, this trip was my first return to Vietnam in over 40 years. Because of in-country air transportation, it was possible to visit a more extensive part of the country than in any other trip we have taken. The battle damage still visible at the Citadel in Hue remains a testament to the ferocity of the fighting there during the 1968 Tet offensive. The hotels we stayed at in Vietnam were the best of any facilities on any other of our VBT vacations. The pre-trip to Halong Bay was another highlight as was the post-trip to Angkor Wat in Siem Reap, Cambodia, one of the true wonders of the world.
You've taken over a dozen biking tours with us. Have you ever thought about taking a Walking or Bike and Barge vacation with VBT?
Several of our friends have taken both hiking and bike and barge trips, but we prefer the standard biking vacation at least to this point in our lives.
You recently returned from Thailand and have previously visited Vietnam with VBT as you mention. What is your favorite aspect of traveling in Asia that you haven't experienced during your European vacations?
The biking in both Vietnam and Thailand presented some challenges because of traffic and road conditions, but the opportunities to see agricultural production distinct to Southeast Asia was a real highlight for us. The rural people in both countries were a joy to interact with if only briefly.
Where are you off to next?
We have pre-registered to bike around parts of Lake Constance (Austria, Germany, and Switzerland) in late June and early July 2015.