5 Highlights of VBT's Biking Tour of Death Valley National Park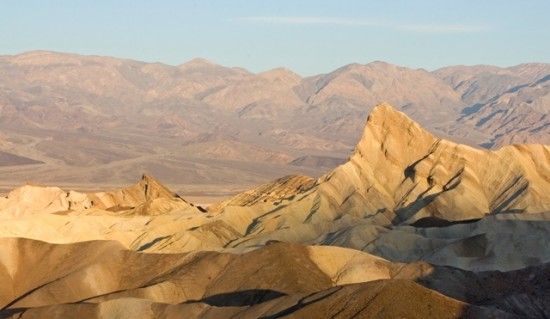 Death Valley National Park is one of the most unique landscapes on earth where sprawling salt flats and sand dunes are set against backdrops of beautifully colored rock formations and 10,000+ foot mountains.  Some of the park's features are so bizarre looking that they've been used as shooting locations for otherworldly TV shows and movies like the Twilight Zone, Star Wars, and Robinson Crusoe on Mars. But despite the morbid names given to many park destinations—Devil's Golf Course, Badwater Basin, the Funeral Mountains, and of course Death Valley—it is a beautiful and mystical place for exploration by bicycle if you visit during the right time of year (which, don't worry VBT does).  Don't believe us? Check out our Top 5 Highlights of our Winter Sun: Cycling California's Death Valley vacation.
Harmony Borax Works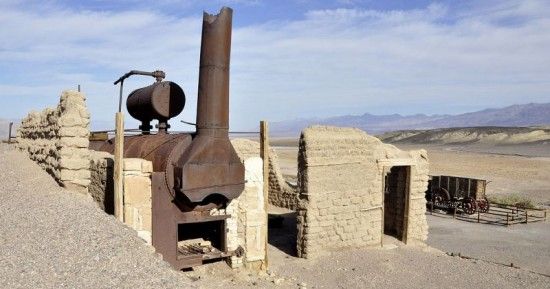 We'll immerse ourselves in local history during an interpretive walk of what remains of the Harmony Borax Works, where we'll learn about the history of mining and transporting the borax deposits that were discovered here in 1881. Did you know that Dial's borax detergent brand  "20 Mule Team" from the 1890's was actually named for the famed twenty mule teams that hauled double wagons of borax from Death Valley to the closest railroad in Mojave, California?
Cycling from Dante's View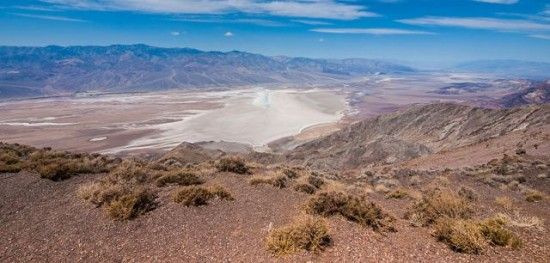 Offering a stunning panoramic look at the Death Valley Basin from high above, travelers will have the option to bike or shuttle by van to the 5,476 foot viewpoint known as Dante's View. However you choose to summit, the biggest perk of this ride is the scenic and thrilling continuous downhill—descending 5,500 feet over 23 miles—back to our hotel.
The Inn at Furnace Creek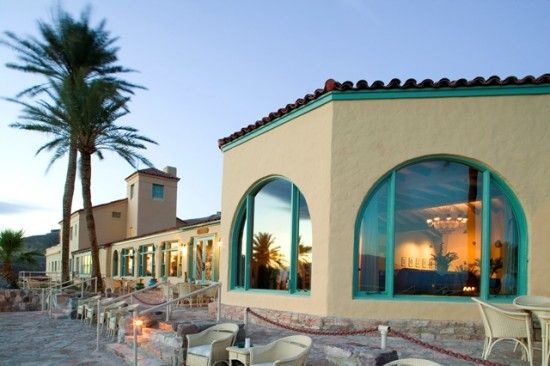 Our accommodation for the tour is the elegant, mission-style Inn at Furnace Creek—a 20+ year recipient of the prestigious AAA 4-diamond award and akin to a lush oasis in the desert. During our stay, you may find yourself relaxing near the spring-fed pool, strolling through palm gardens, playing a round of golf or a game of tennis, or just enjoying  a refreshing drink from the Stargazers Deck.
Scotty's Castle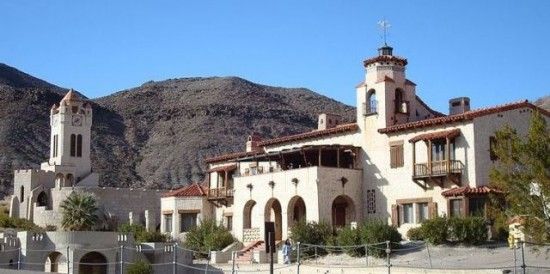 This historic Spanish Colonial style villa located in Grapevine Canyon offers a window into the life and times of the Roaring '20s and the Depression '30s. It was and is an engineer's dream home, a wealthy matron's vacation home and the hideout and getaway of a Walter Scott—a mysterious con man known for scams involving nonexistent gold mines and this house that bears his name. We enjoy a 40-minute guided tour with a keeper of the house.
A Walk in Golden Canyon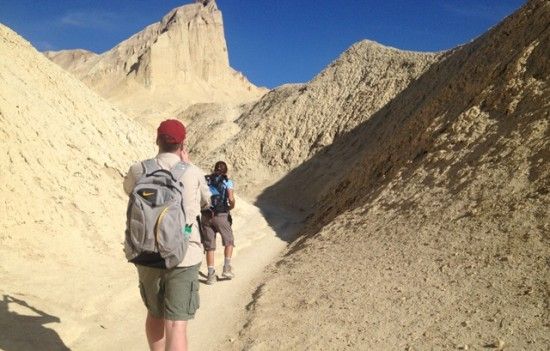 We'll hop off our bikes for an afternoon walk in picturesque Golden Canyon. The 2.5-mile trail winds through twisting narrows and colorful rock formations, and provides spectacular views of Manly Beacon and Red Cathedral.
These are just some of the highlights you'll enjoy on our Winter Sun: Cycling California's Death Valley vacation. If you would like to reserve a vacation—save $200 on the November 16th departure!—or speak with one of our Tour Consultants, please call 800-245-3868 or visit www.vbt.com. They are available Monday-Friday from 8:30am to 6:30pm EST and Saturdays from 10:00am to 3:00pm EST.