VBT's Bike and Barge Vacations: A Day in the Life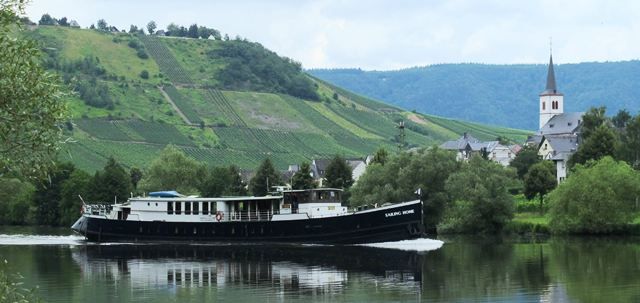 In 2014 VBT is offering four "Bike and Barge" vacations throughout the Netherlands, Belgium, France & Germany. With the ease of unpacking only once, this alternate way of travel transports you through some of Europe's most art- and history-rich destinations and immerses you in fascinating cultures, easily and comfortably.  By barge, you'll be able to cover more territory and gain different views of the countryside than on your bicycle alone. From your private island in the river, you enjoy a constantly changing panorama of sights and sounds, and views of your mooring points from both far and near. Once ashore, you see it all again from the other side—on your bicycle.
Step aboard our private Barge and away you go! Settle into your comfortable cabin, unpack your bags and prepare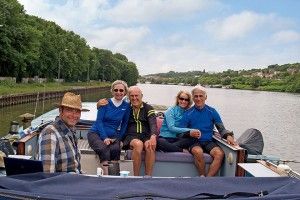 for nights of uninterrupted relaxation. Your barge captain and crew pride themselves on exceptional quality service—after all, you are a guest in their private home on the water! As always, VBT's bilingual Trip Leaders will join you for the ride, sharing their secrets for the best cultural discoveries that await on land, at each mooring point.  On the barge you'll enjoy breakfasts and many dinners prepped by our onboard chef, who will create delicious meals using fresh, local ingredients, with regional wines and a selection of cheeses served at dinner. Enjoy evenings mingling with your new friends on the sun deck, or in the barge's salon and bar. At night, you'll retire to your cabin with twin beds and private bath with a shower. To get a feel for a Bike and Barge vacation read this typical "day in the life" of a barge vacation and watch the travel videos posted below.
A Typical Day on VBT's Barge Bicycling Vacations
8:00am—Holland and Belgium Bike & Barge (Brussels)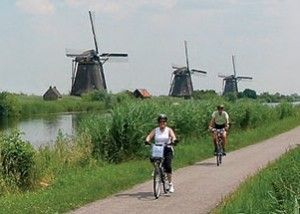 It's important to start an active vacation off with a hearty morning meal. On Day 9 of our Holland and Belgium (Brussels) vacation we'll enjoy our chef-cooked breakfast onboard as we cruise along the tranquil river Noord and admire an unfolding landscape. We are en route to Kinderdijk, where 19 of Holland's famous windmills—some more than 260 years old—decorate the horizon. We'll spend the morning exploring this UNESCO World Heritage Site, and we'll learn how these iconic structures were used well into the 20th century.
10:00am—Holland in Springtime Bike & Barge—New for 2014!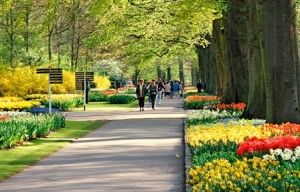 A mid-morning ride is a wonderful way to start the day. On Day 5 of our new Holland in Springtime vacation we'll cycle to the Hortus Bulborum, a unique garden museum dedicated to the preservation of rare and historic bulbs. More than 4,000 tulips, daffodils, hyacinths and other flowers are planted in the museum's five-plus acres of flowerbeds, and each spring, they burst forth in a profusion of fragrances and colors, as we'll discover during a guided tour.
12:00pm—Heart of Europe: Bike & Barge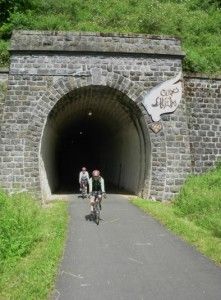 Cultural interactions are a huge part of any VBT vacation—what better way to learn about the country you are visiting than from the locals themselves? On Day 5, after a morning riding on an old rail trail in Eifel, Germany—through tunnels, over bridges and past small lakes formed from collapsed volcano craters—we'll meet a local German family. We'll visit them at their rustic cabin in the woods for a delicious lunch of simple, home-cooked German fare and to learn about life in this beautiful valley.
3:00pm—Heart of France Bike & Barge
After riding from Neronville on Day 7, we'll hop off our bikes for a mid-afternoon cultural experience in Chateau Landon—a fortified commune. Perched on a rocky spur, its ramparts and towers make for a dramatic approach. Once we arrive a local VBT friend, Gillian, will lead us on a personal guided walk where we'll learn all about the town's history.
6:00pm—Holland and Belgium Bike & Barge (Amsterdam)
Back on board our barge on Day 5, we'll relax before dinner while enjoying a tasting of Belgium's favorite beverage, beer. Although Belgium is quite a small country, it has more than 178 registered breweries that produce an infinite number of outstanding beers. Originally the domain of monks, Belgium is known for its classic "Trappist" varieties like dubbel and tripel that are "Abbey brewed" in a monastic style. Our tasting culminates in a delectable dinner made with fresh, local ingredients prepared by our onboard Chef.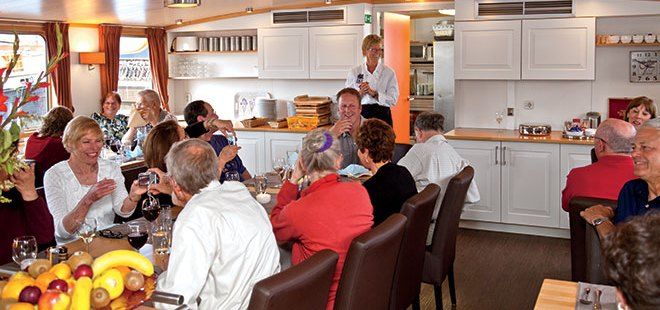 10:00pm—Holland in Springtime Bike & Barge​
All of our Bike and Barge vacations end with a night in a hotel in the tour's final city. On Day 10 of our new Holland in Springtime trip you'll have the night free to stroll along the magnificent city of Amsterdam's endless canals lined with charming gable-roof houses. Perhaps you'll enjoy a night cap at one of Amsterdam's pubs and toast to another successful active vacation before retiring to your hotel for the evening.
To hear about the experience from our travelers themselves, please watch these short tour videos: